Cambodia Lost Temples Motorcycle Tour
updated:
13/10/2014
0 comments
Angkor Wat and Siem Reap are not to be missed, but you may find it a bit crowded. Enjoying this Cambodia motorcycle tour and going in remote areas to find lost temples is just unforgettable…
---
Destination: Phnom Penh Kompong Cham Kompong Thom Sambour Preah Kuk Tbeang Meanchey Preah Vihear temple Chaom Khsan Koker Siem Reap Kompong Thom

Duration: 5 Days

Total approx: 830 km.

Transport:

wave_future
minsk
xl_cross
dirt_bike
baja_xr

Price: Contact Us

Departure:Weekly
After a delicious breakfast we will begin a motorbike trip from our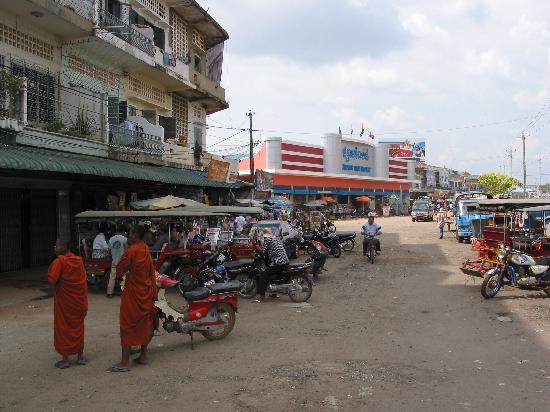 shop and we will get used to the fresh maintained bikes and the chaotic traffic of Cambodia. We will ride a motorcycle through a nice small fishing village with friendly people along the Mekong River. Kompong Cham will be the place for lunch. We will keep riding through a rubber plantations near Kompong Cham and arrive around 5pm in Kompong Thom.
Accommodation: Hotel, AC, Sat TV, hot shower
In the morning we will make a trip to the temples of Sambour Preah Kuk. A guide will bring us around the 1000-year-old temple complex and will explain us the history of the Khmer culture. A long gravel road leads us to Tbeang Meanchey. To enjoy the ride we will get off the road if there is enough time. This evening we will have a dinner at a traditional BBQ Restaurant.
Accommodation: Guesthouse, fan, Sat TV, shower
DAY 3: THE LOST TEMPLE MOTORCYCLES TOUR – TBEANG MEANCHEY MOTORCYCLE TOUR TO CHAOM KHSAN VIA PREAH VIHEAR TEMPLE (150KM)
One of the most significant temples in Cambodia is the Prasath

Preah Vihear on a 500m high plateau on the borderline to Thailand. We will make an exploration to this site for an hour before we get to Chaom Khsant, a nearby village on the edge of the Dangrek Mountains in the North of Cambodia where will stay overnight.
Accommodation: Guesthouse with basic comfort and shower
DAY 4: THE LOST TEMPLE MOTORCYCLES TOUR – CHOAM KHSAN MOTORCYCLE TOUR TO SIEM REAP VIA KOKER (230KM)
Since the year 2004, tourists will have chances to see the temples of Koker again. The Khmer Rouge during the civil war in the 70's has heavily mined them. As it is safe now this less travelled place of Cambodia will be our destination for lunch.
In the evening we will take a ride to Siem Reap and might enjoy a traditional seeing hands massage made by blind peoole.
Accommodation: Hotel, AC, Sat TV, hot shower
The last day we will go 45 kilometres on the highway to see the ancient bridge 1000 years old at Kampung Kdey. We will take a sandy trails throught the small villages and cross the Tonle Sap by ferry and have a look to the small fishing villages on the river. Around 5pm we will get back to our base in Phnom Penh. After this motorbike trip there will be a lot of stories for sharing. So let's meet in the evening for a cold beer on the Riverside!
Accommodation: Hotel, AC, Sat TV, hot shower
End of services
Standard option (Recommended):
With Honda XR250 or XR BAJA
* 1 participant: $200/person/day
* 2 participants: $150/person/day
* 3 participants or more: $140/person/day
Tour includes:
* Professional tour guide with his bike
* Honda XR250, Baja or XR400
* 3rd party liability insurance
* Helmet, goggles, gloves, elbow and knee pads set
* River crossings
* Hotel pick-up
* T-shirt
Tour excludes:
* Personal insurance
* Damages to motorcycle
* Fuel
* Meals
* Alcohol and soft drinks
* Accommodation
* Airport transfer and pick-up
* Entrance fees for temples, national park or ferry
* Support vehicle on request ($180/day to be shared among the participants)
* Personal expenses
Cambodia Lost Temples Motorcycle Tour




Rating:

9.8

out of

10

based on

372

reviews.