Epic Vietnam Motorbike Tour from South to North -14 Days
updated:
15/01/2018
One comment
Epic Vietnam Motorbike Tour from Saigon to Hanoi within 14 days cover over all highlights of Vietnam via Ho Chi Minh Trails and Central Highlands such as Cat Tien Park, Dalat, Lak Lake,…You have a good leisure rest in Hoi An and start the adventure to Hue and DMZ via the imposing Hai Van Pass. Highlights include Cuc Phuong National Park & Mai Chau before ending the ride in Hanoi.
---
Destination: Saigon Cat Tien National Park Dalat – Lak Lake Buon Ma Thuot Pleiku Kon Tum Hoi An via My Son Sanctuary Hue – Da Nang – Hoi An DMZ & Khe Sanh Phong Nha Caves Tan Ky Cuc Phuong National Park Mai Chau Hanoi

Duration: 14 Days

Total approx: 2700 km.

Transport:

Price: Contact Us

Departure:Any day upon request
Vietnam Motorbike Tours on Ho Chi Minh Trail from Saigon to Hanoi – Itinerary:
DAY 1: Vietnam Motorbike Tours on Ho Chi Minh Trail : SAIGON – CAT TIEN NATIONAL PARK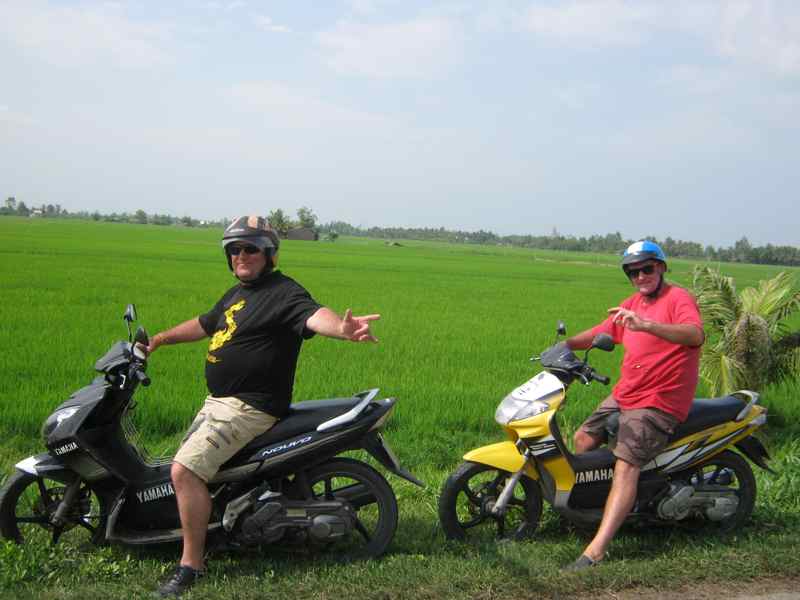 In this morning, we will start our ride straight to Cat Tien National Park.This trip is not so long but is a big day as traffic is very crazy when we get out of city. At noon, we ride to Cat Tien National Park. This forest area used to be the head quarter of Vietnamese army during the war.
The park suffered historically during the Vietnam War when it was extensively sprayed with herbicides like the defoliant Agent Orange. To this day these areas have extensive bamboo and grassland cover and trees have not yet grown back.
Right here, you will have a chance to experience off-road rides through jungles with dirty roads to explore the diversity of fauna & flora of National Park
Summary
Distance:  190 km
Accommodation: Guest House in Nam Cat Tien
Meals: Lunch, Dinner
DAY 2: Vietnam Motorbike Tours on Ho Chi Minh Trail : CAT TIEN NATIONAL PARK MOTORCYCLE TOUR TO DA LAT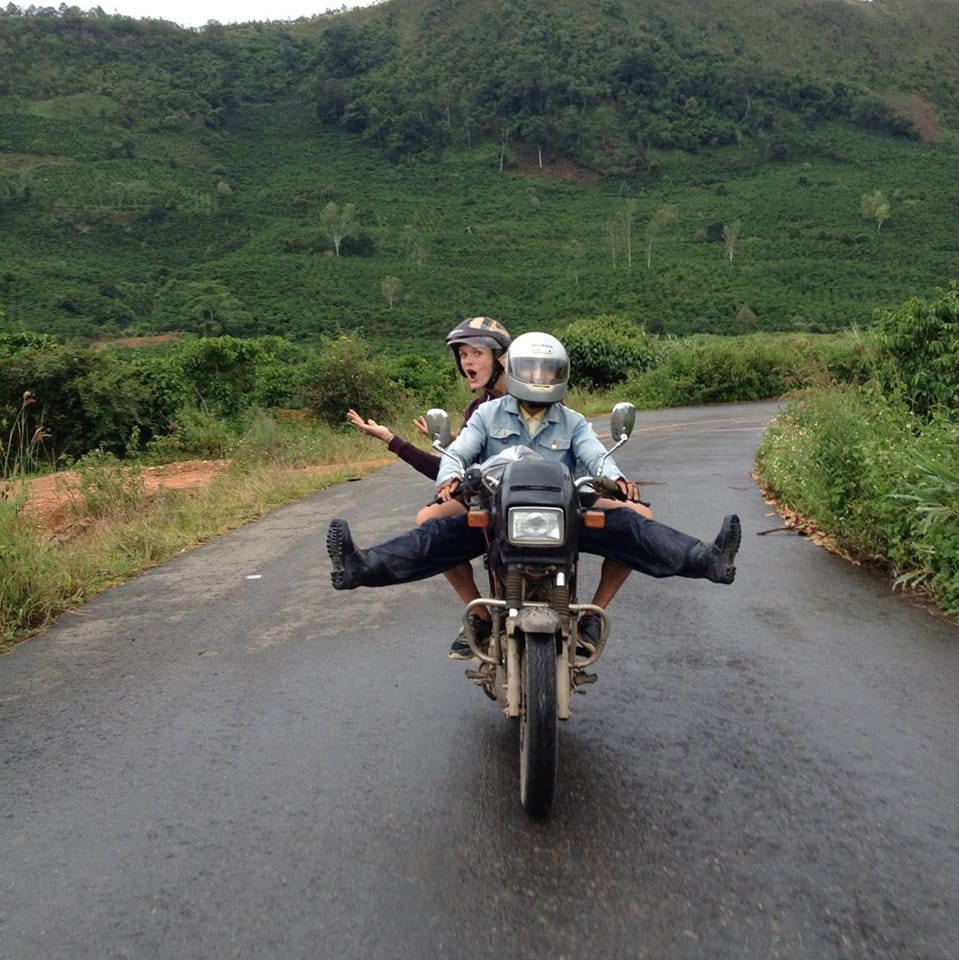 In this morning, after having breakfast at guesthouse in Cat Tien National park, we will set off our funny motorcycle trip by a long ride down on road 20 to Da Lat known as an "internal spring city" located on Central Highland.  En route, we'll get by so many mountains & valleys cum the local villages so that you sometimes have chances to enjoy the off-road ridings via forests or plantations or stop by to get communications with friendly locals.
Summary
Distance:  200 km
Accommodation: Hotel in Da Lat
Meals:   Breakfast, Lunch, Dinner
DAY 3: Vietnam Motorbike Tours on Ho Chi Minh Trail : DA LAT WITH FULL-DAY OFFROAD MOTORBIKING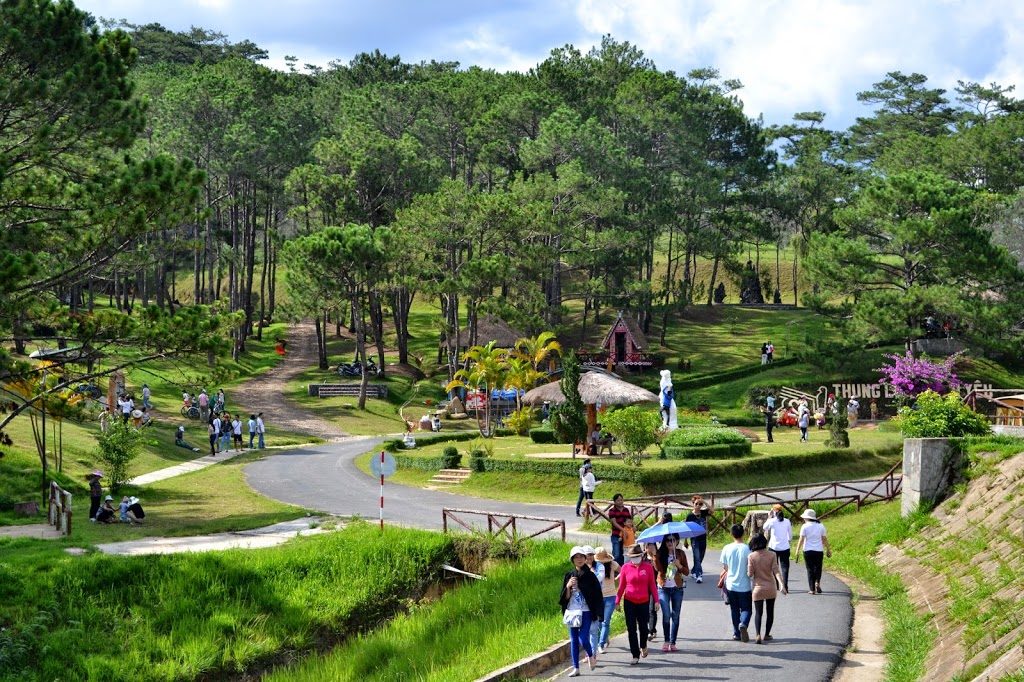 Dalat is known as "The City of Love" and is a favorite holiday resort for Vietnamese as well as the French. With evergreen forests, waterfalls, beautiful lakes, the country's best flower gardens, and delicious fresh produce, Dalat has always provided a welcome respite from the heat of the lowlands. We can spend the day riding to visit the highlights of Dalat with Lang Biang plateau, its gardens, cathedral, waterfalls, market, Valley of Love, convent, university and key pagodas.
Overnight in Da Lat.
Summary
Accommodation: Hotel in Dalat
Meals:   Breakfast, Lunch, Dinner
DAY 4: Vietnam Motorbike Tours on Ho Chi Minh Trail : DALAT  – LAK LAKE – BUON MA THUOT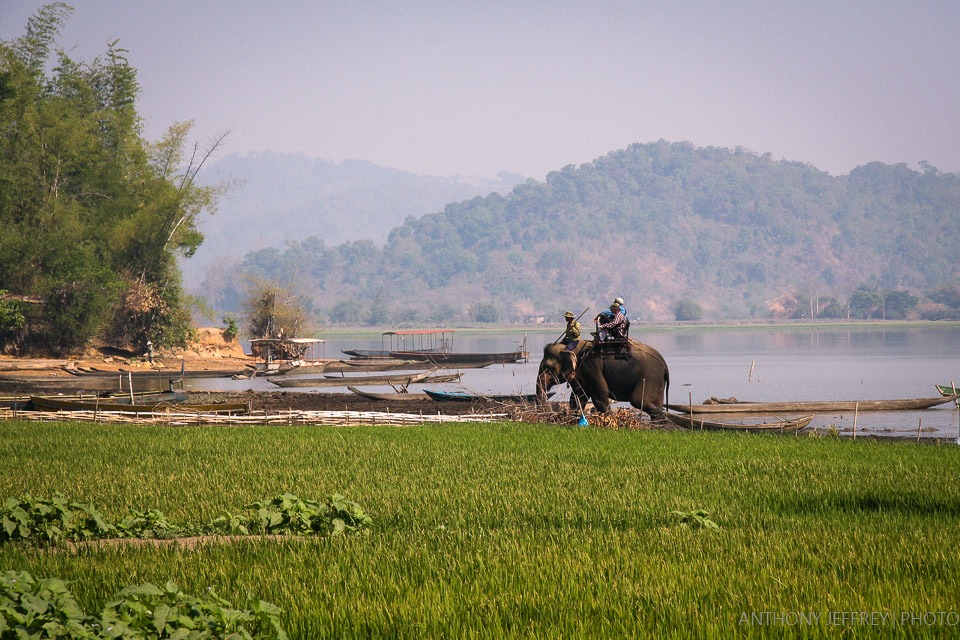 This morning, after having breakfast we'll continue riding onward to Buon Ma Thuot.  The road is narrow, winding, but not busy.  We have three passes to cross – Krong No, Chuoi,  and Phu Son. The drive itself is quite beautiful and lined with dense forests
After having lunch in Lak Lake, we'll take an offroad motor-ride to Lak Lake on Road 27, a small paved road with poor surfacing and quite busy. Here we can have a break for refreshment and troll around the by the lake. There are said to be about 31 different ethnic groups in Dac Lac, each with their own traditional dress and customs.  Some of the villages are known for elephant hunting and taming, some for weaving and other arts. Finally, we'll ride back to Buon Ma Thuot city for an overnight
Summary
Distance:  200 km
Accommodation: Hotel in Buon Ma Thuot
Meals:   Breakfast, Lunch, Dinner
DAY 5: Vietnam Motorbike Tours on Ho Chi Minh Trail : BUON ME THUOT MOTORCYCLE TOUR TO PLEIKU – KON TUM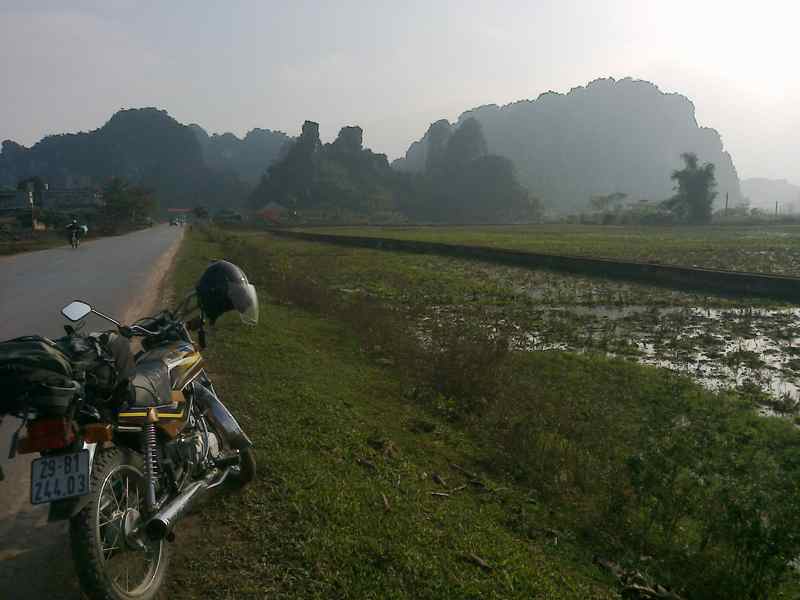 After having breakfast at hotel, we need a time to stop by a coffee shop or bar to drink a cup of the best coffee in Vietnam before setting off another ride to Pleiku because Buon Ma Thuot is so well-known as a Kingdom of coffee not only in Vietnam but also in the world.
We then will follow the Highway 14 to ride straight to Kon Tum via Pleiku. Along the road, we'll keep on viewing endless coffee plantations on the Central Highland with peaceful villages located on the roadsides.
Lunch at Pleiku, From here, we ride along the Tun River and up over a pass to Kon Tum. Along the way are coffee plantations and the stilt houses of the Central Highland's largest ethnic group of the Gia Rai.
In Kon Tum we can visit the Catholic church and the orphanage, based behind the Catholic Church in town and run by a group of French nuns. If time permits, you can also visit a beautiful Bahnar village near town.
Summary
Distance:  240 km
Accommodation: Hotel in Kon Tum
Meals:   Breakfast, Lunch, Dinner
DAY 6: Vietnam Motorbike Tours on Ho Chi Minh Trail : KON TUM MOTORBIKE TOUR TO HOI AN VIA MY SON SANCTUARY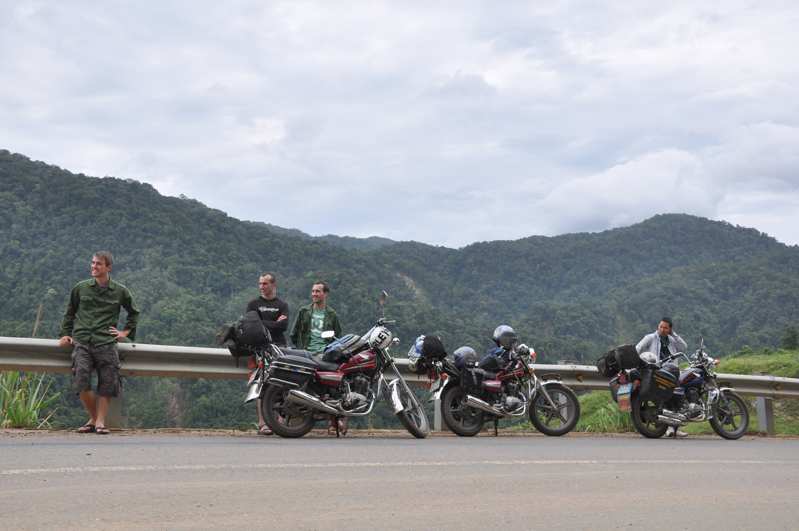 After breakfast in local restaurant we continue riding north on Highway 14 today on a bit of a bumpy section of the road to Kham Duc.
Today is really a day to visit different minority villages. We will ride over Lo Xo Pass, making lots of stops along the way to meet De and Trieng minorities, who live along the Dak Po Ko river. Along the river are many amazing hanging bridges, built by the local people to cross to the opposite shore.  Lunch will be in Tan Canh, and we can visit a village of Se Dang
After having lunch, we'll keep on rolling on the highway to Hoi An and on the way, we'll stop by to visit My Son, a world heritage site that is the Cham version of Angkor Wat. Most of the temples are dedicated to the Hindu god, Shiva, considered by the Cham as the founder and protector of their dynasties.
We then get to hotel in Hoi An for a check-in
Summary
Distance:  280 km
Accommodation: Hotel in Hoi An
Meals:   Breakfast, Lunch, Dinner
DAY 7: Vietnam Motorbike Tours on Ho Chi Minh Trail : HOIAN – FREE AT LEISURE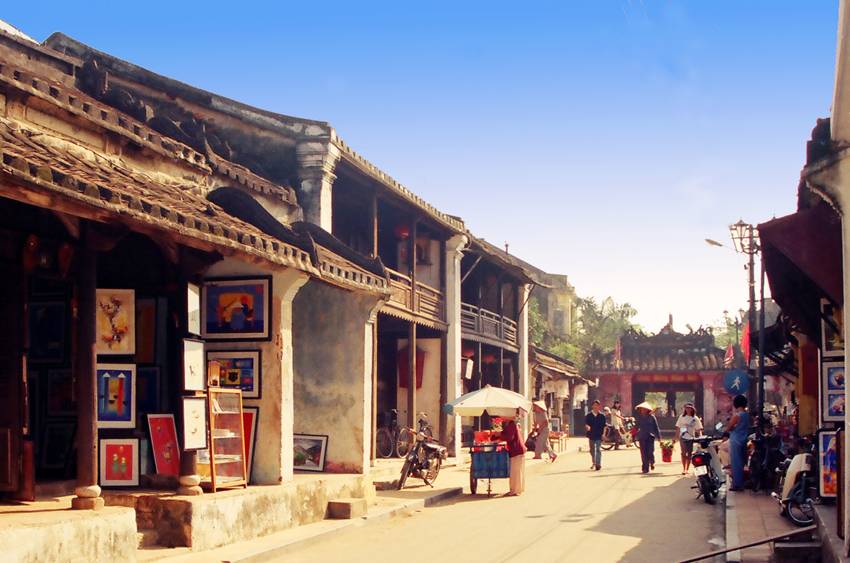 Hoi An, nestled on the banks of the Thu Bon River.  Before the river silted up, Hoi An was one of the most important trading ports in Southeast Asia, and a center for East-West exchange and trade. The rooftops of Hoian retain a magical old world Oriental feel and are a favorite subject for Vietnamese artists.  In the early 1980s Hoian's ancient quarters and historical monuments came under the protection and restoration efforts of UNESCO and the Polish government.
Those who wish can ride up to Da Nang Beach, where US marines first landed, otherwise enjoy a free day to explore Hoi An by foot or by motorbike taxi. With fine wining and dining (including a range of Hoi An specialties), impressive architecture, fantastic tailoring, endless shopping, and a glorious beach, there is no shortage of activities to indulge in.
Summary
Accommodation:  Hotel in Hoian Town
Meals:   Breakfast
DAY 8: Vietnam Motorbike Tours on Ho Chi Minh Trail : HUE – DA NANG – HOI AN (150 KM – 5 HOURS OF RIDING)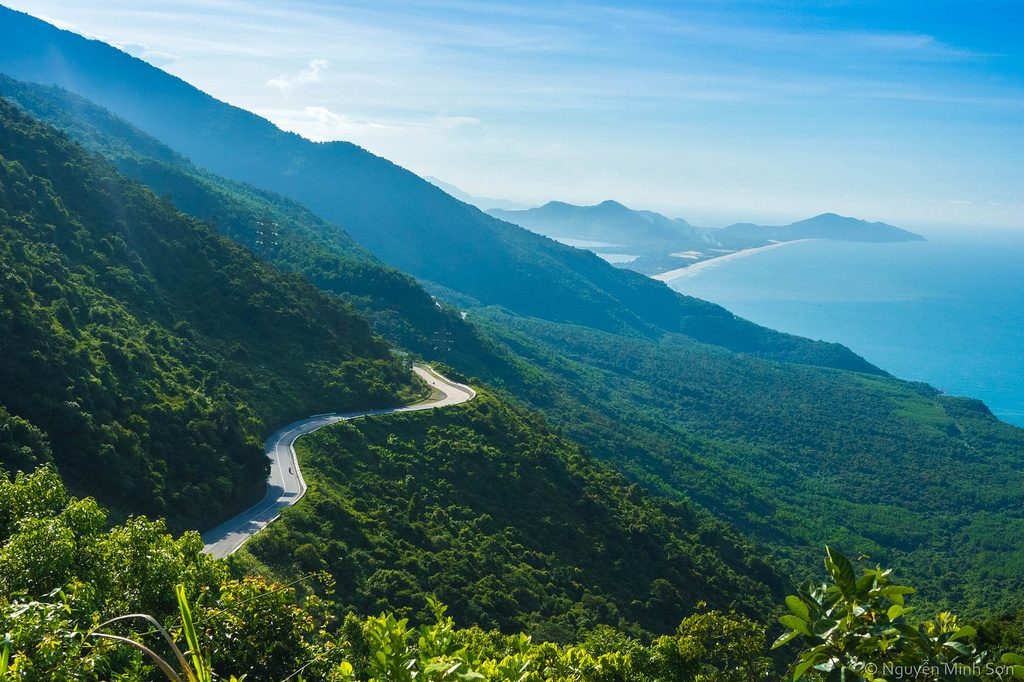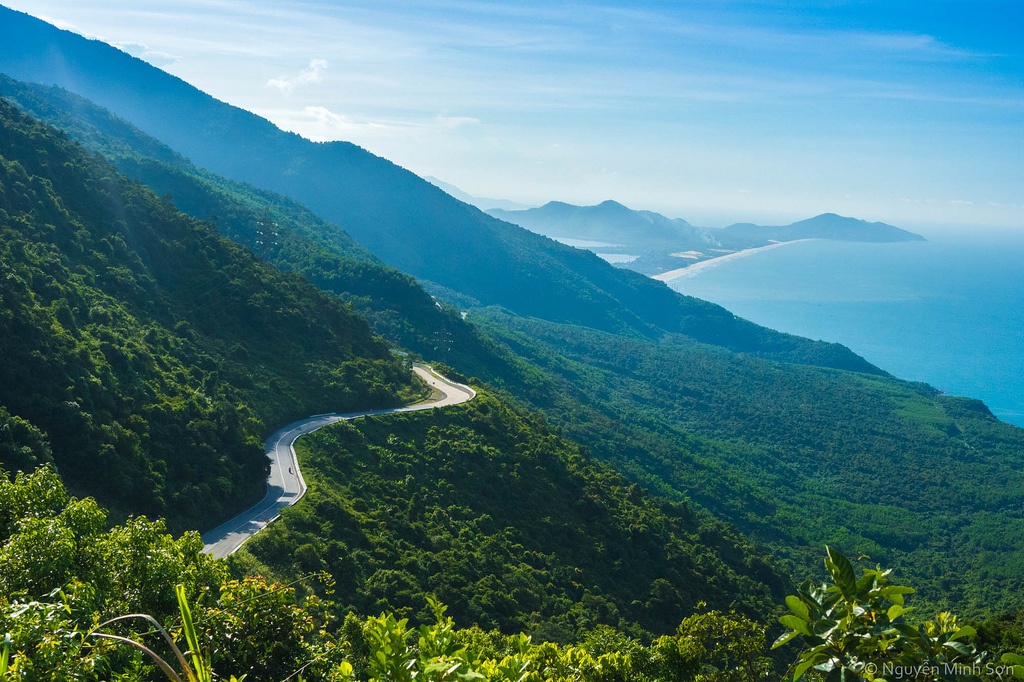 In this morning, we will keep on riding along the coastal line via Da Nang then Hai Van Pass, where we could look down from the top to view the splendid beauties of Lang Co beach and ocean then time to refresh yourself by a cup of coffee before heading straight to Hue
Upon arrival in Hue, you will have to time to ride around this ancient citadel to explore some highlights with Imperial Citadel and Royal Tombs or boat trip on Perfume Pagoda.
Time to check in at hotels
Summary
Distance:  180 km
Accommodation: Hotel in Hue
Meals:   Breakfast, Lunch, Dinner
DAY 9: Vietnam Motorbike Tours on Ho Chi Minh Trail : HUE MOTORBIKE TOUR TO DMZ & KHE SANH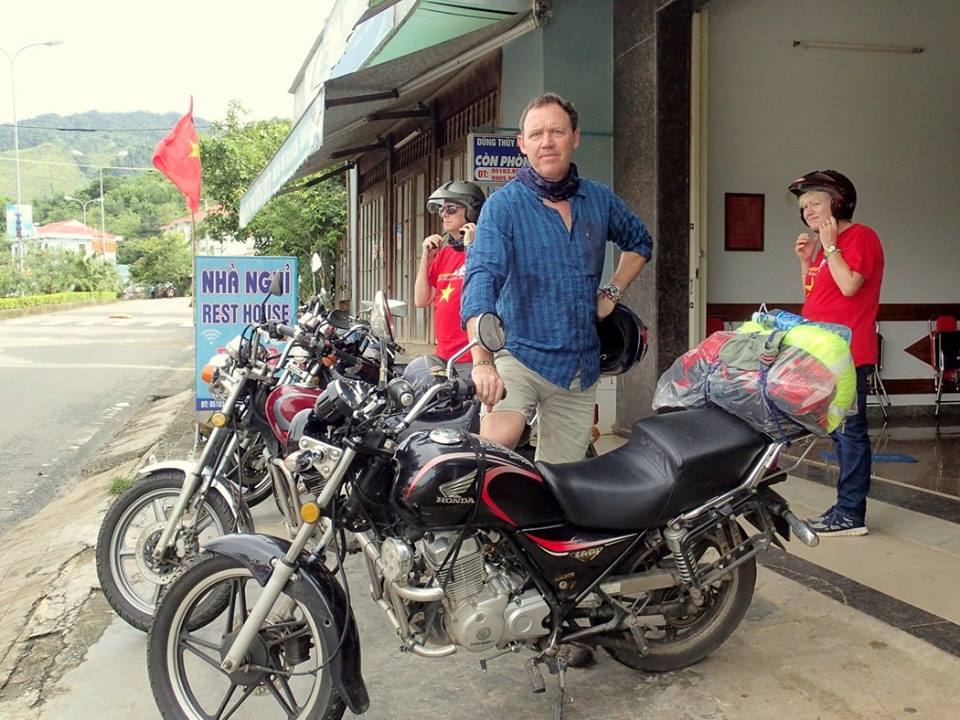 Departing from Hue we ride along highway 1 to Quang Tri town, visiting Long Hung Church and Quang Tri Old Citadel which was a battlefield in 1972 between North and South Vietnam for 81 days and nights.
Then, we will ride along the coast from Cua Viet Beach to Cua Tung Beach a long stretch of beautiful and peaceful coastline. Next we visit the Vinh Moc tunnels and explore the Demilitarised Zone, stopping for lunch at the Doc Mieu Firebase.
In the afternoon we will have short stop at Truong Son cemetary to pay respects to the soldiers who fought and died on the trail during the American War. Continuing west on highway 9, we will climb into the Truong Son foothills, pass the Rock Pile and stop at some villages and beautiful natural springs and waterfalls near the highway.
Approx 5pm we arrive in Khe Sanh which was established as a forward base by General Westmoreland near Laos to secure highway 9. Check in to hotel, free time at night.
Summary
Distance:  200 km
Accommodation: Hotel in Khe Sanh
Meals:   Breakfast, Lunch, Dinner
DAY 10: Vietnam Motorbike Tours on Ho Chi Minh Trail : KHE SANH TO PHONG NHA CAVES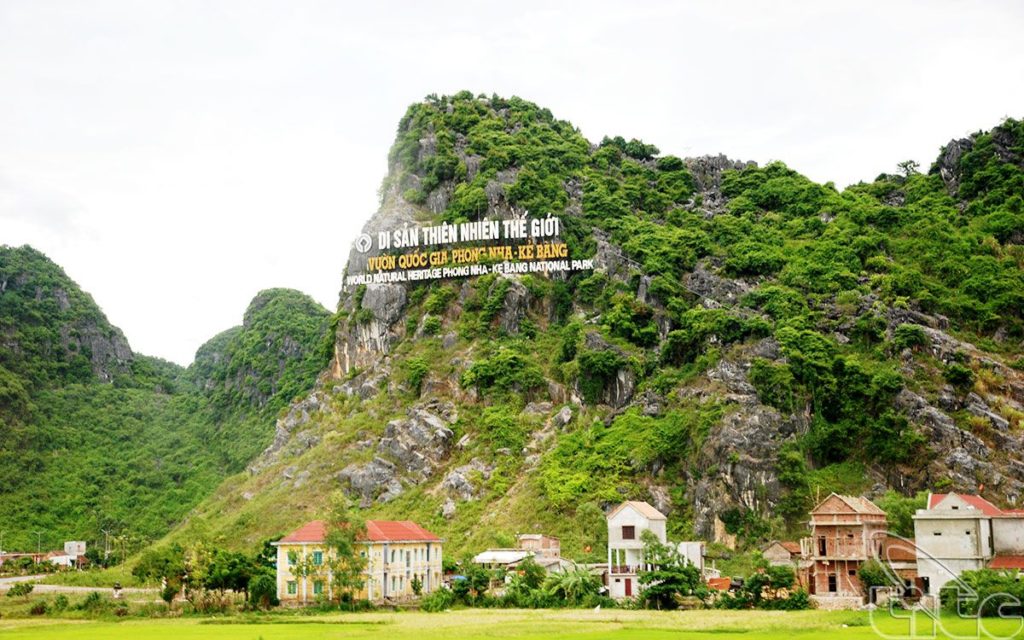 After breakfast visit the Khe Sanh combat base, then we ride the west Ho Chi Minh trail, today you have the chance to see the real trail with its mind-blowing, spectacular scenery – lots of jungle, mountains, waterfalls and villages of the Paco and Van Kieu Minorities.
We will ride through the Sa Mu pass, se pang heng river, Lang Ho village, U bo pass, areas made famous in the American war.
Tonight we stay in Son Trach village near the entrance to the Phong Na-Ke Bang National Park
Summary
Distance:  150 km
Accommodation: Hotel in Phong Nha
Meals:   Breakfast, Lunch, Dinner
DAY 11: Vietnam Motorbike Tours on Ho Chi Minh Trail : PHONG NHA CAVES TO TAN KY (260KM)
Today we travel through beautiful countryside on the journey from Phong Nha to Tan Ky. Passing Tea plantations, rice fields, ethnic minority villages, mountains, valleys and streams before arriving in Tan Ky late afternoon.
Summary
Distance:  260 km
Accommodation: Hotel in Tan Ky – Nghe An
Meals:   Breakfast, Lunch, Dinner
DAY 12: Vietnam Motorbike Tours on Ho Chi Minh Trail : TAN KY TO CUC PHUONG NATIONAL PARK (190KM)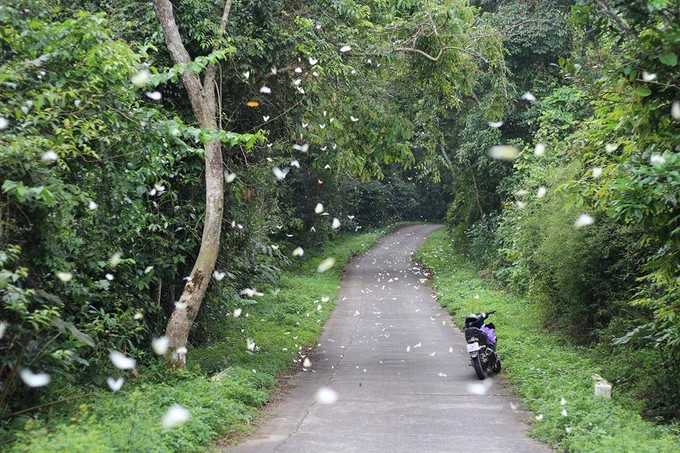 Established in 1962, Cuc Phuong is the oldest national park in Vietnam. Cuc Phuong boasts engaging cultural and wildlife heritage and enchanting scenery. Magnificent limestone mountains rise up majestically from the green rice-terraces and traditional stilt houses of the Muong hill-tribe. Covered in a dense forest they form a habitat for some of Asia's rarest species. It is no wonder that researchers, naturalists, enthusiasts and conservationists alike are drawn to this corner of the world.
Summary
Distance:  190 km
Accommodation: Hotel in Guesthouse in Cuc Phuong
Meals:   Breakfast, Lunch, Dinner
DAY 13: Vietnam Motorbike Tours on Ho Chi Minh Trail : CUC PHUONG NATIONAL PARK TO MAI CHAU (140KM)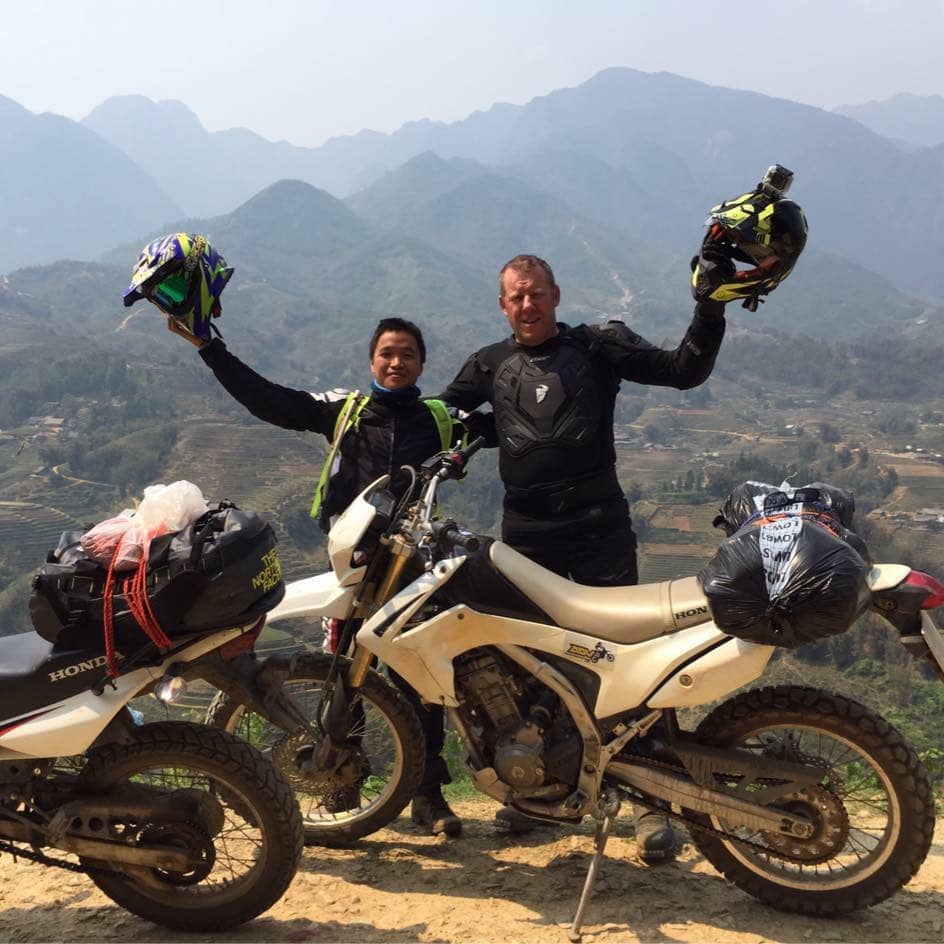 Our destination today is Mai Chau, a chain of villages surrounded by a lush green valley with stilt houses bordering both sides of the roads. Many minorities, including the White Thai ethnic group, live in Mai Chau. Tonight we stay in a traditional Thai stilt house in one of the villages and you have the option of attending a Thai folk show.
Summary
Distance:  140 km
Accommodation: Home-stay in village of Mai Chau
Meals:   Breakfast, Lunch, Dinner
DAY 14: Vietnam Motorbike Tours on Ho Chi Minh Trail : MAI CHAU MOTORBIKE TOUR TO HANOI
In this morning, after having breakfast at the local family, we'll ride back to Hanoi. Along the road, we'll stop by to take photos of mountains, valleys and rice paddies.
At around 16:00, we'll get to Hanoi. End of the trip
Summary
Distance:  150 km
Accommodation: No included
Meals:   Breakfast, Lunch
Epic Vietnam Motorbike Tour from South to North -14 Days




Rating:

9.8

out of

10

based on

372

reviews.
* ACCOMMODATION:
– We endeavour to select a combination of good quality hotels that reflect the character of the local area as well as being as centrally located as possible, all the while striving to keep the cost affordable.
– Your trip will stay in a range of hotels / guesthouses with standardized quality.
– Please be aware that some hotel rooms, especially those in major urban centres or older cities, may be smaller than what you are used to in other parts of the world. Standards and ratings may also be different to your home country.
– Rooms are en-suite and either twin- or triple-share, depending on what you have booked. If you are a solo traveller, you will always be sharing a room with someone of the same sex otherwise you can pay a supplement to possess a single room
– If you are traveling as a couple and would prefer to have a double bed, please officially request a double room with us. We never presume that two people traveling together are a couple, even if you share the same surname, unless informed otherwise.
* MEALS:
– Your included meals are detailed in the 'More Inclusions' section of this document.
– Breakfasts are included every day in the hotel (except on the first morning). They are usually 'continental breakfasts', which are typical in most countries. A typical breakfast may consist of cereals with milk or yoghurt, bread, croissants, cold meats, cheese and a range of spreads, with fruit juice, tea or coffee to drink. It is rare to get a hot breakfast in Asia, though on some occasions there may be some hot food available as well.
Included evening meals are in local restaurants or accommodation places, and are either two or three courses. In most cases table water is provided with the meals, and if you wish to purchase additional drinks you can do so at your own expense.
– If you have any dietary requirements we will make every effort to cater to your specific needs as long as you advise your travel agent when you book, or make note by email before you set out. But please be aware that although we will do everything in our power to arrange it, we cannot guarantee that every restaurant we use will be able to cater to all dietary needs, particularly in Asia. We also cannot cater for tastes or dislikes, as most of our included evening meals feature a set menu.
* Ten Tips to Survive Vietnam's Traffic:
+ DON'T spend hours waiting to cross the street on foot: that constant tide of traffic won't stop until late at night, so
+ DO as the Vietnamese do: take the plunge and inch slowly across. Observe the Miracle of the Red Sea, as the traffic parts like magic, flowing smoothly in front of you or behind, meeting up again on the other side.
+ DON'T make any sudden or unpredictable movements: freeze if you have to, but never lunge forward or backward towards the safety of the sidewalk. In fact, you can do just about anything, but do it with conviction!
+ DON'T forget, if you're riding or driving, to look where you're going – all the time: if you hit anything in front of you, then it's your fault.
+ DO give way to any vehicle bigger and noisier than yours. Trucks and buses are particularly dangerous: often old, sometimes unsafe and usually all over the road.
+ DO watch out for unfamiliar obstacles: water buffaloes, rocks of various sizes, broken-down trucks…, people sitting in the road, missing bridges, girls in ao dai cycling five abreast, slow-moving mountains of farm produce, dog fights, impromptu football matches, piles of building materials – and almost no light on anything at night..
+ DON'T hesitate to take evasive action – even if this sometimes means leaving the tarmac or coming to a dead stop.
+ DO try to avoid getting involved in one of the all-too-frequent minor accidents that plague Vietnam's roads (and the major ones as well, of course), but if you are unlucky,
+ DON'T lose your cool, in spite of the interference of the large and vocal crowd that may gather: try to settle things amicably and swiftly. Sometimes, paying a reasonable amount of money will save you a lot of hassle.
+ DO remember that the only rule is: you're not allowed to bump into anybody… irrespective of what they did or should have done, or of what the road signs or traffic lights were telling them to do. Some people still seem to think that anything red means forward, comrade
* Tipping for guides & mechanic:
Our crews never expect tips themselves and will not ask for any; that's not what friends do! However, so if you are really satisfied with all of what they did for you, please don't mind tipping them a bit with a normal norm of US$ 7 – US$ 10/person for a guide per day and US$ 3 – US$ 5/person for a mechanic per day. (just don't forget Mum's souvenir).
Inclusions
+ Motorbike(s) (Honda or Yamaha)

+ Helmet(s)

+ Driving gears

+ Gasoline on tour

+ English or French speaking guide

+ Mechanic (only for group from 6 passengers)

+ Accommodation as indicated in the itinerary (based on twin or/and triple shared)

+ Homestay permission

+ Meals as indicated in the itinerary

+ Entrance fees & Sightseeing fees

+ One-way train's carriage for Motorbikes (Hanoi to Saigon)

+ One-way flight ticket for tour guide from Hanoi to Saigon

+ Bottled water, coffee and fruits on tour
VIEW ROUTE MAP