Laos motorbike Buffalo Tour
updated:
25/10/2017
0 comments
Routes are planned with rest stops in mind, but there is very little "down time" during this extreme adventure tour overall. Guests that choose this option will be rewarded with experiences that are rarely obtained by the typical motorcycle traveler. Camping on your very own private jungle beach; be a guest in the home of a local village chief in a military encampment; travel by long tail boat on remote rivers surrounded by high canyon walls
---
Destination: Vientiane Pak Ley Xayabury Luang Prabang Phonsavan Vieng Thong Kong Lor Cave Pakxan Longsane Phou Khou Khoey National Park

Duration: 10 Days

Total approx: 1780 km.

Transport:

Price: Contact Us

Departure:Weekly
Laos motorbike Buffalo Tour from Vientiane to Longsane – Tour Itinerary:
DAY 1: Laos motorbike Buffalo Tour from Vientiane to Longsane : VIENTIANE MOTORBIKE TOUR TO PAK LEY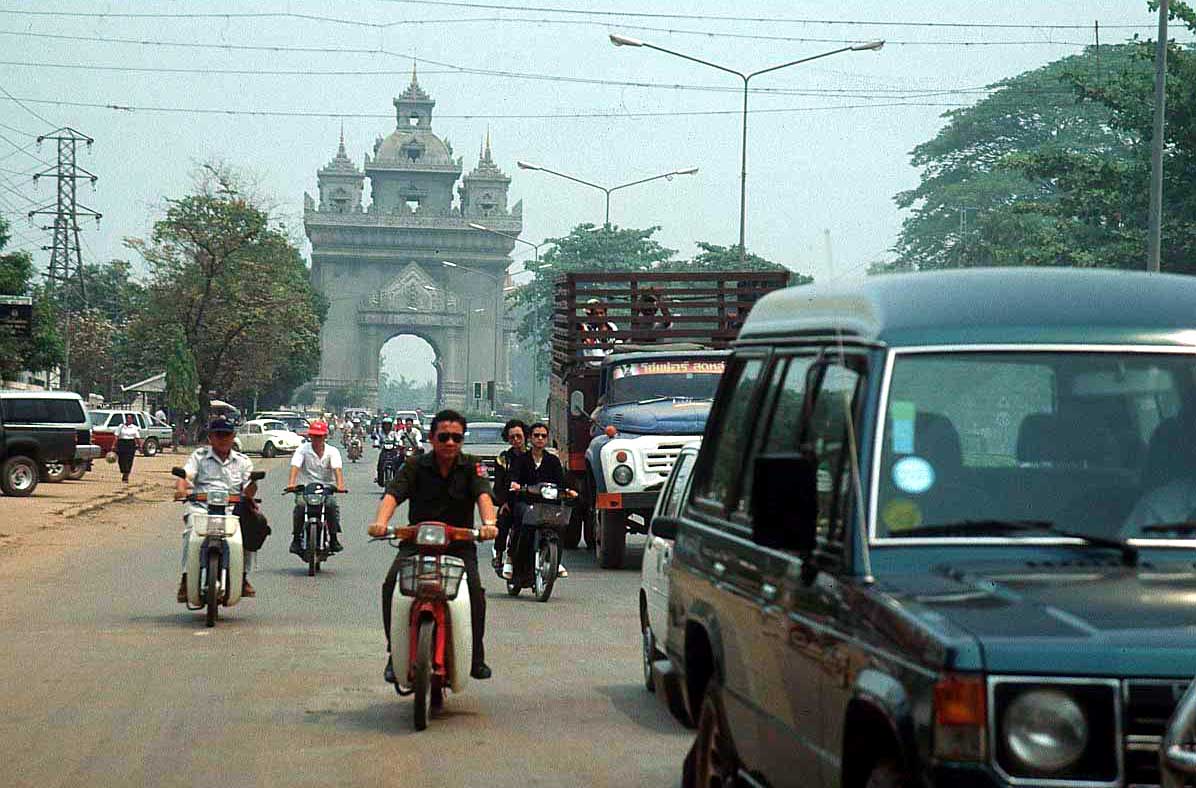 We will follow the path of the Mekhong south and pass thru the Phou Pannang National Forest. Along the way the route will be partially sealed and under construction up until lunch. After the lunch stop, we will board canoes with our bikes and get ferried across the Mekhong, just a few meters south of the border with Thailand. After disembarking from the boat, we will follow a rarely used single track thru deep bamboo forest for the next 60 or so KM.
Finally, we will end in the Mekhong and logging town of Pak Ley. Along the route we will see and pass through some very remote villages and land. We are the only motorized traffic and one of a very small handful of people using this trail period. This day will be one of our longer ones, dependent on the trail condition after crossing the river.
DAY 2: Laos motorbike Buffalo Tour from Vientiane to Longsane : PAK LEY MOTORBIKE TOUR TO XAYABURY
This is and has always been a guests favorite. We will travel into the Nam Phouy National Park and wind along the border with Thailand, at times riding high mountain ridges keeping the border between neighbors. The track will offer every single type of riding available to our guests. We will have a few KM of tarmac, mud, singe track, sand, loose rocky trail with deep crevasses climbing up steep mountain paths, a few rivers to cross, and maybe a few surprises to boot.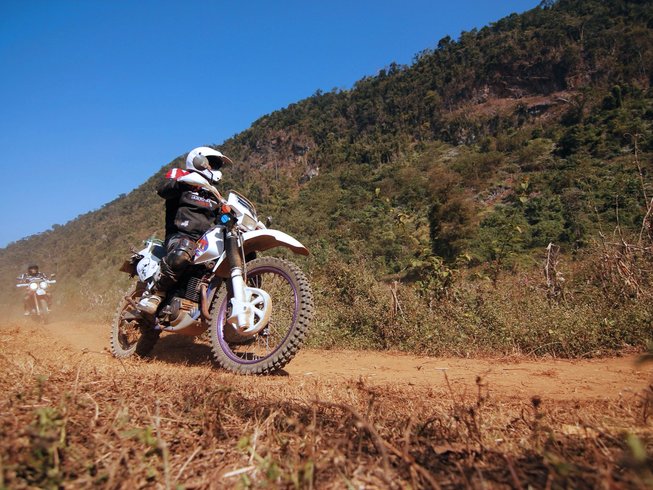 We will quite possibly see a wild elephant or 2. The untouched, dense forest offers bamboo stands as well a large old growth timber as well. There are no permanent settlements in the NPA but some ethnic villages on the North side we may be able to visit. There is some road improvement going on, so we can count on about 6 hours riding time.
DAY 3: LAOS MOTORBIKE TOURS: XAYABURY MOTORBIKE TOUR TO LUANG PRABANG
We will have a 100Km tarmac start to the day, or mostly so as it currently under construction and mostly complete this year. We wind high into the mountains and will have many picture perfect views of terraced rice paddy farms etc along the way. Our lunch stop will be in Hongsa, the elephant capitol of Laos.
While we are there we will have a chance to interact with and view working elephants and their mahouts, doing the daily duties as they have for ages. The route thru to historic Luang Prabang is 100% off road, winds up and down thru some amazing mountainous areas all inhabited by ethnic hill tribes, mostly Khmu. Our day will end at the Mekhong once again, and we will cross by ferry into the UNESCO World Heritage City of Luang Prabang.
DAY 4: LAOS MOTORBIKE TOURS: LUANG PRABANG MOTORCYCLE TOURS WITH SIGHTSSEEING AND RELAXING
Today we will have the option to take a boat or ride to the famous Pak Ou caves. Another UNESCO Site, these ancient caves are filled with 1000s of Buddha images, all brought to these holy caves in hopes of spiritual blessings. Situated on the Mekhong in a remote area, the faithful have been visiting these scenic caves for centuries. We will visit the most famous whiskey village in the area, Ban Xang Hai, and have the chance to taste Laos most famous spirit ( of the beverage sort).
After the caves at Pak Ou, we will drive out the most spectactular waterfalls in the area, Kuang Xi. In a setting that just seems too good to be true,  the crystal clear water cascades over cliff after cliff, creating refreshing pools to cool off and enjoy a swim. Bring your shorts!!
DAY 5: LAOS MOTORBIKE TOURS: LUANG PRABANG MOTORBIKE TOUR TO PHONSAVAN
We will travel 90% off road today along the old supply line route used during the war to supply royalist forces in Luang Prabang and P-van. P-van is currently under consideration for UNESCO status as it is also home to the famous mystery known as the Plain of Jars, thousand year old stone vessels strewn across the land with no explanation as to use.  P-van was the home to Royalist forces during the war and this earned them the distinction of being the most heavily bombed area of Laos. UXO and its reminders abound and we will have the chance to visit a few centers set up to tell the story and maybe meet a few of the victims along the way. More than 300 people per year are injured from UXO in this area.
DAY 6: LAOS MOTORCYCLE TOURS: PHONSAVAN MOTORBIKE TOUR TO VIENG THONG
After about 1 and a half of tarmac, we again head deep into the off road jungles on leaving Xieng Khuan province and into the heart of Borikhanxi province. We will climb hills and wind thru mountains on fresh graded all road dirt and end our day on a nice small track leading into the village of Vieng Thong.
DAY 7: LAOS MOTORCYCLE TOURS: VIENG THONG MOTORBIKE TOUR TO KONG LOR CAVE
We will continue along a nice remote dirt track to the the town of Thabok for our lunch stop. While we are here, we will visit and see some amazing structures made from spent bomb casing and fuel tanks from the war era. Boat hulls and other important structures have been made from war scrap and help these villagers live a more normal life today. We will drive mostly tarmac for the remainder of the day on one of Laos most scenic and winding highways.
DAY 8:  LAOS MOTORCYCLE TOURS: KONG LOR MOTORBIKE TOUR TO PAKXAN
We will wake early this morning to drive a few KMs to the entrance of the caves. From there we will board our own longtail boats for the journey into the caves. The river runs thru the cave system and it is completely dark save for our guides torches. After a 30-45 minutes journey on the inside, we will emerge from the system at an old village and enjoy a snack or lunch. After that, back into the boats for another darkness filled journey with a stop to photo some formation highlights thanks to an ample system of lighting. Once back on the bikes, a pretty straightgforward journey to Hotel Pakxane where we can enjoy on site massage and even casino gambling if you are interested1
DAY 9: LAOS MOTORBIKE TOURS: PAKXAN MOTORBIKE TOUR TO LONGSANE
A very remote track through the mountains and rivers or Borikhanxai Province. We will pass through old Hmong villages as we trek thru forests, fjord multiple rivers, and wind over the mountains dotting the area. Very long and challenging day with spectacular views.
DAY 10: LAOS MOTORCYCLE TOURS: LONGSANE MOTORBIKE TOUR BACK VIENTIANE VIA PHOU KHOU KHOEY NATIONAL PARK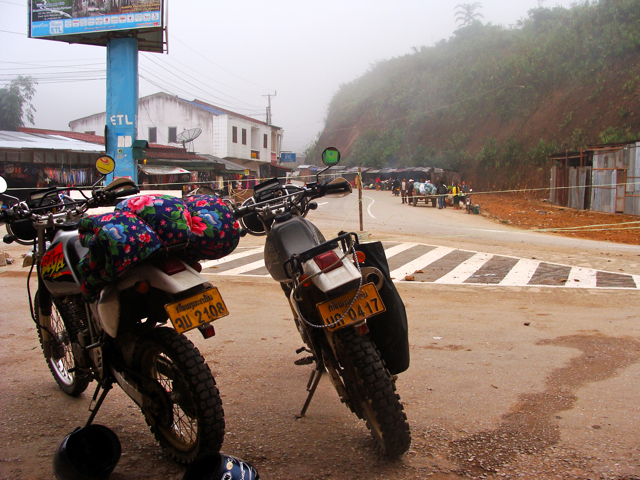 The last day we will head North along the Mekhong on the tarmac'd route 13 for about 50KM. From there we will enter the Phou Khou Khouy NPA, a beautiful protected area set amongst reservoirs, damns, and lakes that give a "Swiss" atmosphere to the area as you look out at the lakes and reservoirs created in the valleys below. A real challenge for the off road lover, this is a great final farewell to the trails of Laos.
COSTS:
$2299.99 PER PERSON BASED ON DOUBLE OCCUPANCY, or;
$2499.99 SINGLE OR PRIVATE ACCOMMODATION
NOTE:
THE ABOVE PRICES INCLUDE ALL COSTS, WITH EXCEPTION TO ALCOHOL. ALL MEALS, ALL PETROL, ALL LODGING, PARK FEES, EVEN WATER. IF YOU DON'T DRINK, DON'T OPEN YOUR WALLET!!!!!!
Laos motorbike Buffalo Tour




Rating:

9.8

out of

10

based on

372

reviews.
* ACCOMMODATION:
– We endeavour to select a combination of good quality hotels that reflect the character of the local area as well as being as centrally located as possible, all the while striving to keep the cost affordable.
– Your trip will stay in a range of hotels / guesthouses with standardized quality.
– Please be aware that some hotel rooms, especially those in major urban centres or older cities, may be smaller than what you are used to in other parts of the world. Standards and ratings may also be different to your home country.
– Rooms are en-suite and either twin- or triple-share, depending on what you have booked. If you are a solo traveller, you will always be sharing a room with someone of the same sex otherwise you can pay a supplement to possess a single room
– If you are traveling as a couple and would prefer to have a double bed, please officially request a double room with us. We never presume that two people traveling together are a couple, even if you share the same surname, unless informed otherwise.
* MEALS:
– Your included meals are detailed in the 'More Inclusions' section of this document.
– Breakfasts are included every day in the hotel (except on the first morning). They are usually 'continental breakfasts', which are typical in most countries. A typical breakfast may consist of cereals with milk or yoghurt, bread, croissants, cold meats, cheese and a range of spreads, with fruit juice, tea or coffee to drink. It is rare to get a hot breakfast in Asia, though on some occasions there may be some hot food available as well.
Included evening meals are in local restaurants or accommodation places, and are either two or three courses. In most cases table water is provided with the meals, and if you wish to purchase additional drinks you can do so at your own expense.
– If you have any dietary requirements we will make every effort to cater to your specific needs as long as you advise your travel agent when you book, or make note by email before you set out. But please be aware that although we will do everything in our power to arrange it, we cannot guarantee that every restaurant we use will be able to cater to all dietary needs, particularly in Asia. We also cannot cater for tastes or dislikes, as most of our included evening meals feature a set menu.
* Ten Tips to Survive Vietnam's Traffic:
+ DON'T spend hours waiting to cross the street on foot: that constant tide of traffic won't stop until late at night, so
+ DO as the Vietnamese do: take the plunge and inch slowly across. Observe the Miracle of the Red Sea, as the traffic parts like magic, flowing smoothly in front of you or behind, meeting up again on the other side.
+ DON'T make any sudden or unpredictable movements: freeze if you have to, but never lunge forward or backward towards the safety of the sidewalk. In fact, you can do just about anything, but do it with conviction!
+ DON'T forget, if you're riding or driving, to look where you're going – all the time: if you hit anything in front of you, then it's your fault.
+ DO give way to any vehicle bigger and noisier than yours. Trucks and buses are particularly dangerous: often old, sometimes unsafe and usually all over the road.
+ DO watch out for unfamiliar obstacles: water buffaloes, rocks of various sizes, broken-down trucks…, people sitting in the road, missing bridges, girls in ao dai cycling five abreast, slow-moving mountains of farm produce, dog fights, impromptu football matches, piles of building materials – and almost no light on anything at night..
+ DON'T hesitate to take evasive action – even if this sometimes means leaving the tarmac or coming to a dead stop.
+ DO try to avoid getting involved in one of the all-too-frequent minor accidents that plague Vietnam's roads (and the major ones as well, of course), but if you are unlucky,
+ DON'T lose your cool, in spite of the interference of the large and vocal crowd that may gather: try to settle things amicably and swiftly. Sometimes, paying a reasonable amount of money will save you a lot of hassle.
+ DO remember that the only rule is: you're not allowed to bump into anybody… irrespective of what they did or should have done, or of what the road signs or traffic lights were telling them to do. Some people still seem to think that anything red means forward, comrade
* Tipping for guides & mechanic:
Our crews never expect tips themselves and will not ask for any; that's not what friends do! However, so if you are really satisfied with all of what they did for you, please don't mind tipping them a bit with a normal norm of US$ 7 – US$ 10/person for a guide per day and US$ 3 – US$ 5/person for a mechanic per day. (just don't forget Mum's souvenir).
VIEW ROUTE MAP