Offroad Laos: 10-day Motorbike Tour in North Laos
updated:
16/01/2018
0 comments
In this Laos motorbike tour, we've got paved road, dirt road and some slightly challenging areas will fill out a full ride program. Have a look at the map below for an overview of the tour route. Typically we won't ride from Sunrise to Sunset, and there is built in time for you to relax and enjoy the country as much as possible. The total KM for the ride is 1,700 or 1,065 miles.
---
Laos Offroad Motorbike Tour in North Laos – Tour Itinerary :
You should have some experience riding to join the tour, but it is open to all level of riders.  The maximum group size for this motorbike tour in Laos is 10 persons.
Highlights:

It's all here, remote Area motorbike Riding
– Luang Prabang motorbike and motorcycle adventure Laos
– Hidden Cave City of Vieng Xai
– Plain of Jars
– 1/2 day Kayaking and a mixture of terrain to keep all rider levels interested.
ARRIVAL DAY IN VIENTIANE
For this Motorcycle adventure in Laos: Your accommodation is booked for the Lao Orchid Hotel.   At 18:00 at the hotel, go over the trip details and get to know one another.  We'll  get to know each other and discuss trip safety and ride information will be on the adjenda  An introduction to the bikes takes place but the riding is done the next day.  Tonight we'll adjust your bike to fit if you are a bit too tall or on the vertically challenged side.
Accommodation: Lao Orchid Hotel
DAY 1: Laos Offroad Motorbike Tour in North Laos : VIENTIANE MOTORBIKE TOURS TO PAK LAY (150 KM DIRT , 75 KM PAVED RURAL ROAD)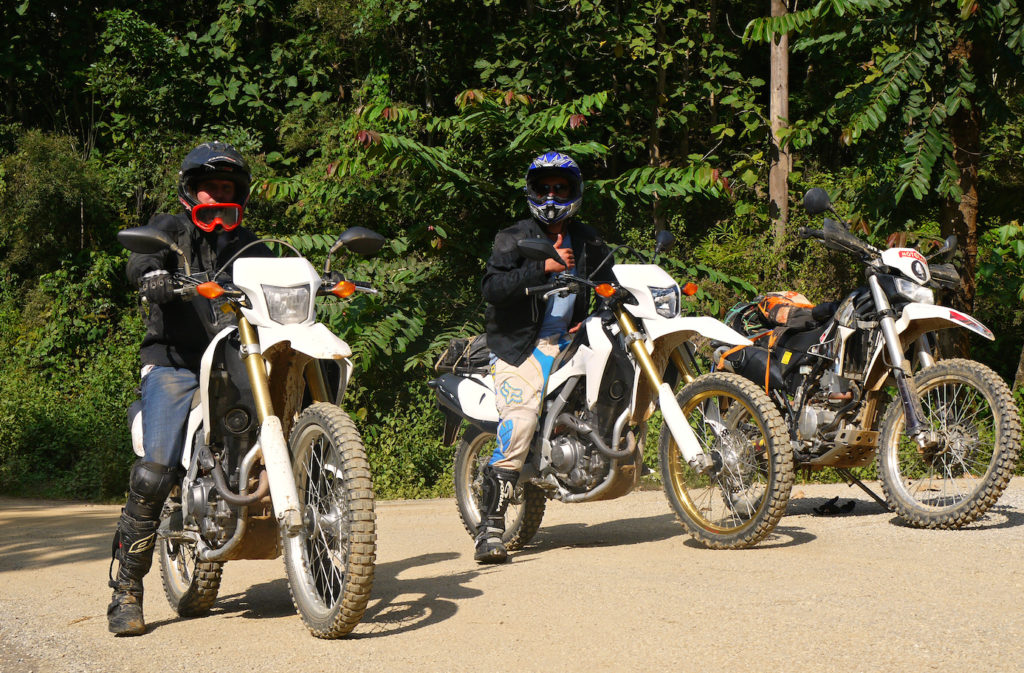 We start a motorbike trip after breakfast and one final safety talk.  We drive outof Vientiane and then turn onto the Mekong River road and the next 150 KM will be on compressed dirt.  Lunch along the way at a local restaurant and we'll take a side track or two before meeting up with a great 75 KM stretch of paved road leading over some small ridges.  A ferry crossing and we are in Pak Lay, our first night's destination.  After dinner tonight, the guides will help you improve your riding based on today's run.  Ride time will vary but we should be in Pak Lay well before sunset.
Accommodation: Doung Chia Phet Hotel   Meals: B/L/D
DAY 2: Laos Offroad Motorbike Tour in North Laos : MOTORBIKE TOUR FROM PAK LAY TO HONGSA (220 KM DIR)
We get rolling after breakfast and ride north on route 4, and make a morning stop along remote areas with rolling hills and scattered rice fields.  Several schools are along the way and we'll most likely draw some att ent ion, but we'll try not to intrude upon them.  We'll stop for lunch in Xayaboury and then carry on riding up to Hongsa.  Today's ride is on all dirt roads ,with just a little paved bits around the bigger towns.  There are many beautiful scenic stops along the ride and you should be quite high on the photo count by the end of the day.
Hopefully we'll pass some working elephants along the road.  Most areas will be sparsely populated areas and it's a real taste of Remote Laos.  Depending on our arrival time in Hongsa, check into the hotel and we may get in a short elephant ride. The elephant ride is optional and only if we arrive early enough into town.  Dinner tonight at a local restaurant and a night in the quiet countryside. Ride time today will also vary but you should arrive well before sunset.
Accommodation: Hongkham Guesthouse    Meals: B/L/D
DAY 3: Laos Offroad Motorbike Tour in North Laos : MOTORCYCLE PACKAGE TOURS FROM HONGSA TO LUANG PRABANG  (100+ KM DIRT)
Today's ride is not too long and we ride motorbikes in Laos, a Laos adventureare headed for Luang Prabang to the east.  We'll depart and ride roads that are being improved.  We have another Mekong River crossing before Luang Prabang and our aim is to arrive in town by lunchtime.
You have a free afternoon here to soak up a little city life, get a massage, jump on email or simply relax along the Mekong River with a cold Beer Lao.  Dinner tonight for the group and after that we suggest a walk through the night market.  Any items purchased can be shipped to Vientiane.
Accommodation: Ban Lao Hotel     Meals: B/L/D Day
Day 4: Laos Offroad Motorbike Tour in North Laos : LUANG PRABANG MOTORBIKE TOUR TO VIENG THONG (120 KM DIRT, 120 KM PAVED RURAL ROAD)
We will offer an early morning to those that would like to quietly observe the morning monk alms procession.  This happens at about 05:30 and our breakfast is a t 07:15.  We plan to depart Luang Prabang at 08:00.  The first 35 km are on paved road and then we take a turn northeast on a compressed dirt road.  We'll have a break along the way ,as the ride is along the Nam Xeun River. 
Our lunch is a mid way on the dirt road section and we'll opt for either a picnic lunch or local place.  We'll ascend into the mountains after Pak Xeng and come to what we call "Rock Star Highway".  The children on the last 30 KM come out in force to greet and cheer us on.  It's overwhelming and sure to make your ride day.  We'll meet up with a rural paved road and ride 95 km to Vieng Thong.  Vieng Thong is a very small, out of the way town with limited services. Electricity in the town is sporadic and we'll do the best we can to call ahead 10 Day Motorcycle Tour in Laos and have a few drinks put on ice for the group's arrival. 
There is an attraction in Vieng Thong and it is the working office for Wildlife Conservation Laos.  We'll drop in for a look at the photo from the remote camera traps and learn a little more about the area. This is the most 'rustic' night we'll have but the food is fine and we'll watch the entire town get rolled up after sunset.  For those that like to experiment, the local restaurant has a selection of fermented rice wine, Lao Lao .
Accommodation: Sooksakhone Guesthouse  Meals: B/L/D
DAY 5: Laos Offroad Motorbike Tour in North Laos : VIENG THONG MOTORCYCLE TOURS TO XAM NUA  (190 KM PAVED RURAL ROAD)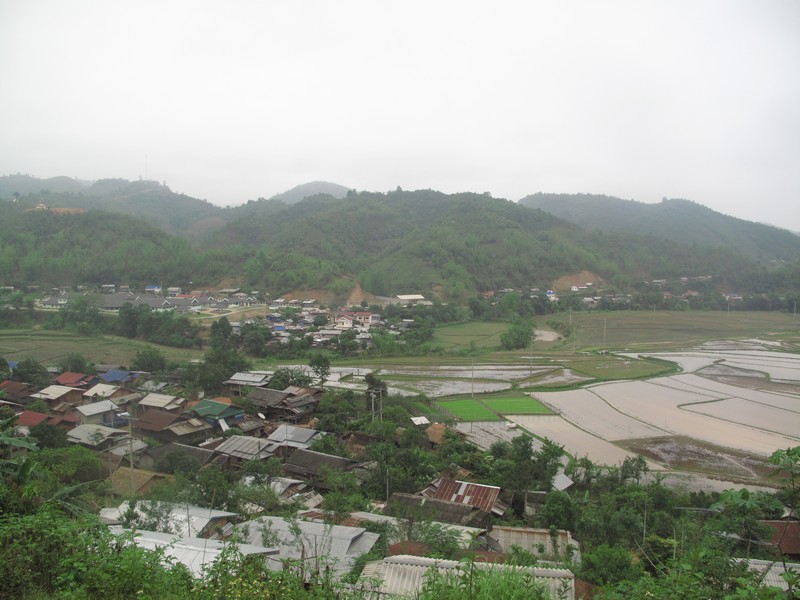 We start off early today and continue riding the remote rural road east.  We'll cross several small Offroad Laos, motorbike tour Laospasses and be riding through the Nam Et Phouy National Protected Area.  The ride today is all paved, but the road conditions are less than perfect.
The upcountry roads are difficult to maintain and while in reasonably good condition, we'll not be racing along as if on smooth blacktop. We'll pass many villages along the way and by noon we'll arrive in Xam Nua.  After a lunch, we check into the hotel, then we'll ride east another 30 km to Vieng Xai for a tour of the Phathet Lao Hidden Cave City from the Indochina War. We'll tour at least 3 of the caves with a specialist local guide from the area.  The caves are quite impressive and massive.
They survived repeated attacks from aircraft and ground forces, and served as the shelter for the founding fathers of the modern day Laos.  During this part of the tour, there will be some walking on uneven ground and reasonable footwear is suggested.  After the tour, return to Xam Nua for dinner and our overnight.
Accommodation: Xam Nua Guesthouse     
Meals: B/L/D
DAY 6: Laos Offroad Motorbike Tour in North Laos : MOTORCYCLE TOURS VIENG XAI TO PHONSAVAN (220 KM PAVED RURAL ROADS IN THE MOUNTAINS)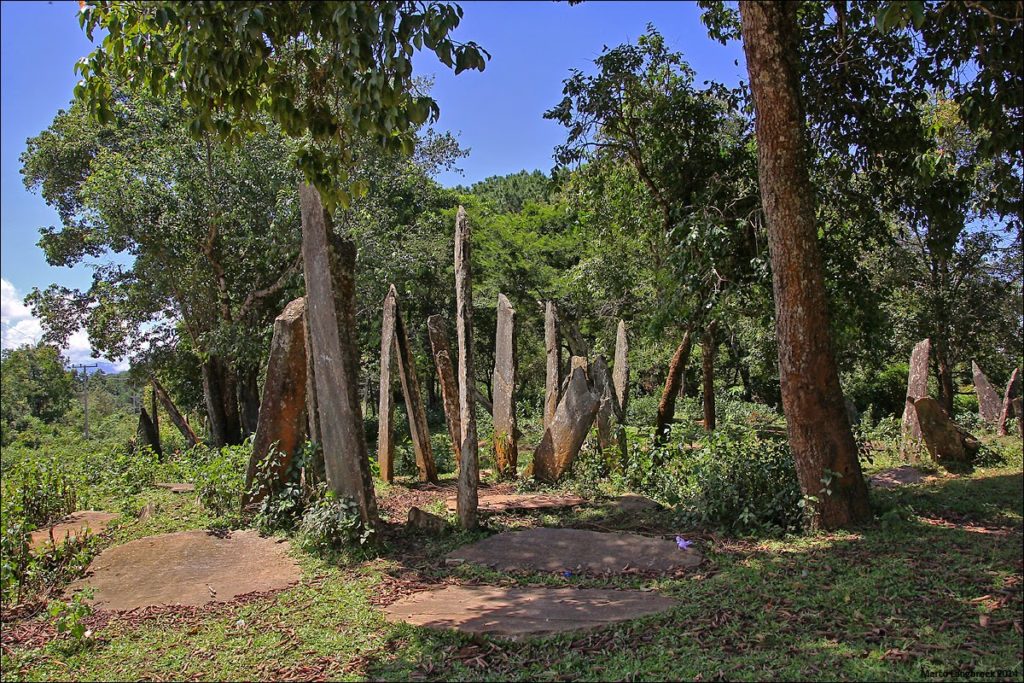 Early start and we are returning on the same mountain road we came into Vieng Xai on.  We'll take a side diversion to Suan Hin Standing Stones mid morning and lunch will be in Nam Neun. We'll be riding on a higher elevation road after lunch for the next 90 km/55 miles.  We  have a rest at Tam Piew Cave at the base of the high elevation road for a look at the view and learn a little history of the cave.  We are then good paved road into Phonsavan for the night with a late afternoon arrival.  Dinner tonight at a local restaurant and overnight in Phonsavan.
Accommodation: Nice Guesthouse (really – that's the name!)
Meals: B/L/D
DAY 7: Laos Offroad Motorbike Tour in North Laos : PHONSAVAN MOTORCYCLE PACKAGE TOURS (130 KM MIXED TERRAI)
We start the day with a ride to Site 1 of the Plain of Jars about 10 minutes out of town.  We will continue on to site 2 and 3 afterward.  From Site 3, we'll loop around to Old Xieng Khoung for lunch and return via Phonsavanh, then take a dirt road loop around the north to some remote villages.  The area motorbike adventure laoswas heavily bombed during the late 1960's and 1970's and scattered bomb craters will be on the route. We will return to Phonsavan in the late afternoon and tonight we'll take time to visit the MAG (Mine Advisory Group) offices to view a short movie about unexploded ordinance clearing in Laos.  Dinner and overnight in Phonsavan.
DAY 8: Laos Offroad Motorbike Tour in North Laos : PHONSAVANH MOTORCYCLE TOURS TO VANG VIENG (230 KM PAVED ROAD)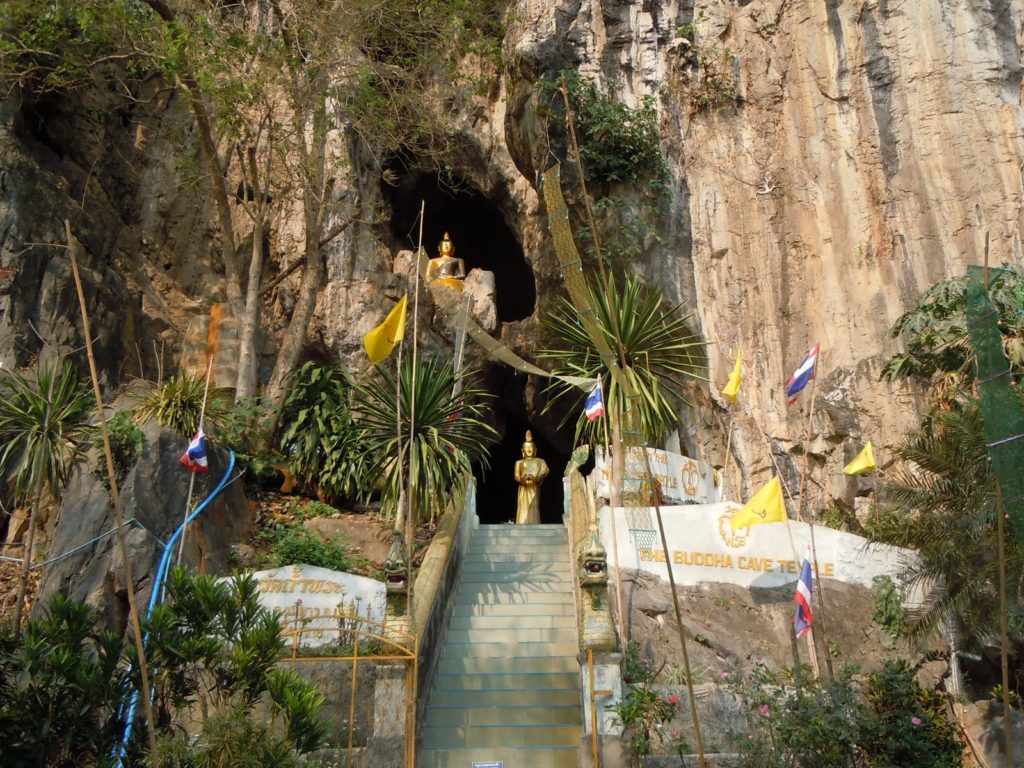 We are on the way to Vang Vieng today and, we'll stop in a Buddha Cave for a small break slightly outside of Phonsavanh.  A little stair climbing but this cave is well lit and quite small.  We'll continue on some excellent windy roads to Phou Khoun where we turn south on Highway 13.  Our lunch-stop is a fantastic hillside restaurant overlooking a deep valley.  We ride on and should arrive mid afternoon in Vang Vieng where we'll stay for 2 nights.  Rest up after today's long ride and dinner at Xayoh Cafe in Vang Vieng is sure to please – they've got really good Pizza! Dinner and overnight in Vang Vieng, as well as a chance to catch up on your email! Night in Ban Sabai Riverside Resort
Meals: B/L/D
DAY 9: Laos Offroad Motorbike Tour in North Laos : VANG VIENG AREA RIDE (60 KM MIXED TERRAIN)
1/2 day Kayak tour (optional)
DAY 10: Laos Offroad Motorbike Tour in North Laos : VANG VIENG MOTORBIKE TOURS BACK TO VIEN TIANE
In this morning, upon having breakfast at hotel, you'll be at leisure in Vang Vieng till riding back to Vien Tiane.
End of your trip!
Offroad Laos: 10-day Motorbike Tour in North Laos




Rating:

9.8

out of

10

based on

370

reviews.
* ACCOMMODATION:
– We endeavour to select a combination of good quality hotels that reflect the character of the local area as well as being as centrally located as possible, all the while striving to keep the cost affordable.
– Your trip will stay in a range of hotels / guesthouses with standardized quality.
– Please be aware that some hotel rooms, especially those in major urban centres or older cities, may be smaller than what you are used to in other parts of the world. Standards and ratings may also be different to your home country.
– Rooms are en-suite and either twin- or triple-share, depending on what you have booked. If you are a solo traveller, you will always be sharing a room with someone of the same sex otherwise you can pay a supplement to possess a single room
– If you are traveling as a couple and would prefer to have a double bed, please officially request a double room with us. We never presume that two people traveling together are a couple, even if you share the same surname, unless informed otherwise.
* MEALS:
– Your included meals are detailed in the 'More Inclusions' section of this document.
– Breakfasts are included every day in the hotel (except on the first morning). They are usually 'continental breakfasts', which are typical in most countries. A typical breakfast may consist of cereals with milk or yoghurt, bread, croissants, cold meats, cheese and a range of spreads, with fruit juice, tea or coffee to drink. It is rare to get a hot breakfast in Asia, though on some occasions there may be some hot food available as well.
Included evening meals are in local restaurants or accommodation places, and are either two or three courses. In most cases table water is provided with the meals, and if you wish to purchase additional drinks you can do so at your own expense.
– If you have any dietary requirements we will make every effort to cater to your specific needs as long as you advise your travel agent when you book, or make note by email before you set out. But please be aware that although we will do everything in our power to arrange it, we cannot guarantee that every restaurant we use will be able to cater to all dietary needs, particularly in Asia. We also cannot cater for tastes or dislikes, as most of our included evening meals feature a set menu.
* Ten Tips to Survive Vietnam's Traffic:
+ DON'T spend hours waiting to cross the street on foot: that constant tide of traffic won't stop until late at night, so
+ DO as the Vietnamese do: take the plunge and inch slowly across. Observe the Miracle of the Red Sea, as the traffic parts like magic, flowing smoothly in front of you or behind, meeting up again on the other side.
+ DON'T make any sudden or unpredictable movements: freeze if you have to, but never lunge forward or backward towards the safety of the sidewalk. In fact, you can do just about anything, but do it with conviction!
+ DON'T forget, if you're riding or driving, to look where you're going – all the time: if you hit anything in front of you, then it's your fault.
+ DO give way to any vehicle bigger and noisier than yours. Trucks and buses are particularly dangerous: often old, sometimes unsafe and usually all over the road.
+ DO watch out for unfamiliar obstacles: water buffaloes, rocks of various sizes, broken-down trucks…, people sitting in the road, missing bridges, girls in ao dai cycling five abreast, slow-moving mountains of farm produce, dog fights, impromptu football matches, piles of building materials – and almost no light on anything at night..
+ DON'T hesitate to take evasive action – even if this sometimes means leaving the tarmac or coming to a dead stop.
+ DO try to avoid getting involved in one of the all-too-frequent minor accidents that plague Vietnam's roads (and the major ones as well, of course), but if you are unlucky,
+ DON'T lose your cool, in spite of the interference of the large and vocal crowd that may gather: try to settle things amicably and swiftly. Sometimes, paying a reasonable amount of money will save you a lot of hassle.
+ DO remember that the only rule is: you're not allowed to bump into anybody… irrespective of what they did or should have done, or of what the road signs or traffic lights were telling them to do. Some people still seem to think that anything red means forward, comrade
* Tipping for guides & mechanic:
Our crews never expect tips themselves and will not ask for any; that's not what friends do! However, so if you are really satisfied with all of what they did for you, please don't mind tipping them a bit with a normal norm of US$ 7 – US$ 10/person for a guide per day and US$ 3 – US$ 5/person for a mechanic per day. (just don't forget Mum's souvenir).