Vietnam Hung Phan Tour
(84.24)39766279
+84 (0) 904 124 997
You've been waiting for it and here it is! Our next readers' tour is to Vietnam and boy have we got a trip for you! We have a ten day North Vietnam tour lined up with the experienced Vietlong Travel people. This tour will take in some of the most stunning sights and experiences there are to see and do in Vietnam. The route includes some dirt roads but Stuart will help you through if need be. . .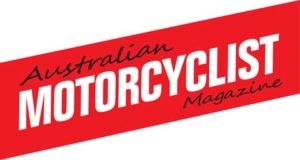 Event Navigation
Vietlong Travel –  Australian Motorcyclist Magazine – Vietnam Hung Phan Tour
Let's go!
Arrival March 3rd – Hanoi
On landing at Noi Bai airport, you'll be welcomed by our driver then escorted to your hotel for check-in. Overnight at hotel in Hanoi.
Lay day March 4th – Hanoi
A meeting between you and the operators and guides to finalise all necessary details before the tour's departure the next day. This is a free day essentially to rest up and do a bit of shopping in the local area if you wish. Overnight at hotel in Hanoi.
Day 1: Vietnam Hung Phan Tour : Hanoi to Mai Chau (Hoa Binh)
Start of our tour by leaving Hanoi on dyke roads to avoid the heavy traffic around 9am. We ride our motorbikes west to Mai Chau, an area of beautiful landscape and home to the Thai ethnic minority. We will ride on Highway 6, passing extensive farming lands comprising a sea of paddy fields split by tree-lined roads punctuated by limestone karst scenery.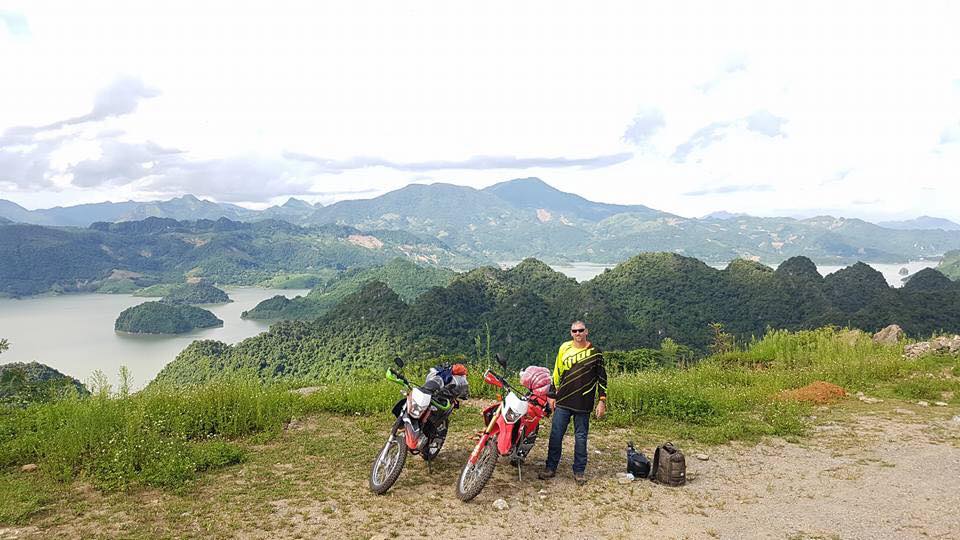 After a light lunch in Hoa Binh Province, we cross Thung Khe, one of the most beautiful mountain passes in North Vietnam, then descend to the mountain valley settlement of Mai Chau. After dinner we join a performance, where you can dance and share a range of special liquors (rice wine) with the locals. Overnight in a house-on-stilts of the Thai people.
* Summary:
+ Distance: 160km
+ Meals: Breakfast, Lunch, Dinner
+ Offroad Ratio: 30%
+ Accommodation: Home-stay
Day 2: Vietnam Hung Phan Tour :  Mai Chau to Phu Yen (Son La) Tribal Villages
Mai Chau is one of the closest places to Hanoi where you can experience a 'real' Montagnard village. In the morning we take a short walk around the village to discover local life. Life in the countryside starts early so by sunrise there is a wealth of activity. You will see women weaving on looms under or inside their houses in the village. We can buy some handmade traditional-style clothing, knives or a cross-bow.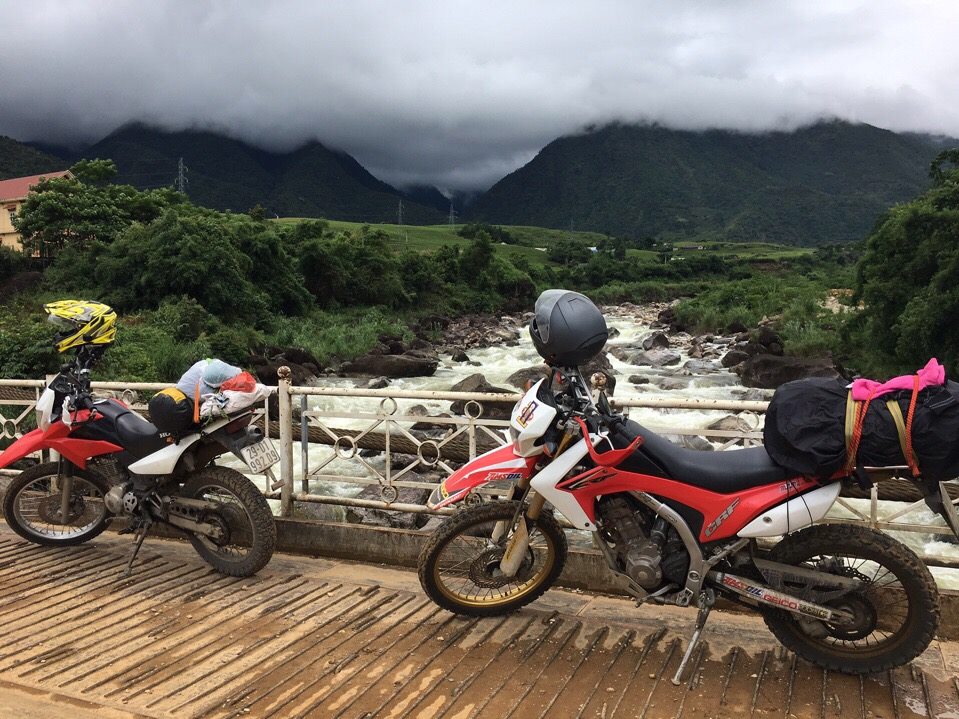 After breakfast in the home-stay, we say goodbye to villagers and leave Mai Chau around 10am. We ride from Mai Chau in the direction of Moc Chau, where we have lunch. This highland town produces some of Vietnam's best tea and is a good place to stock up. The surrounding area is also home to several ethnic minorities, including Green H'mong, Dzao, Thai and Muong.
Moc Chau boasts a pioneering dairy industry that started in the late 1970s with Australian (and later, UN) assistance. After lunch, we turn to the less travelled Road 43 leading to the Da River, crossing the reservoir of the Da river at Van Yen ferry, then ride on a beautiful winding secondary road to Phu Yen where we stay the night.
* Summary:
+ Distance: 140km
+ Meals: Breakfast, Lunch
+ Offroad Ratio: 60%
+ Accommodation: Hotel
Day 3: Vietnam Hung Phan Tour : Phu Yen to Than Uyen (Lai Chau)
In the morning, we keep riding across Lung Lo pass before heading up on Road 32.  During the First Indochina War, the 15km long Lung Lo Pass, used by the Vietnamese resistance force to transport weapons, goods and food during the Dien Bien Phu campaign of 1954, was heavily bombed by the French in order to sever the front lines from the rear.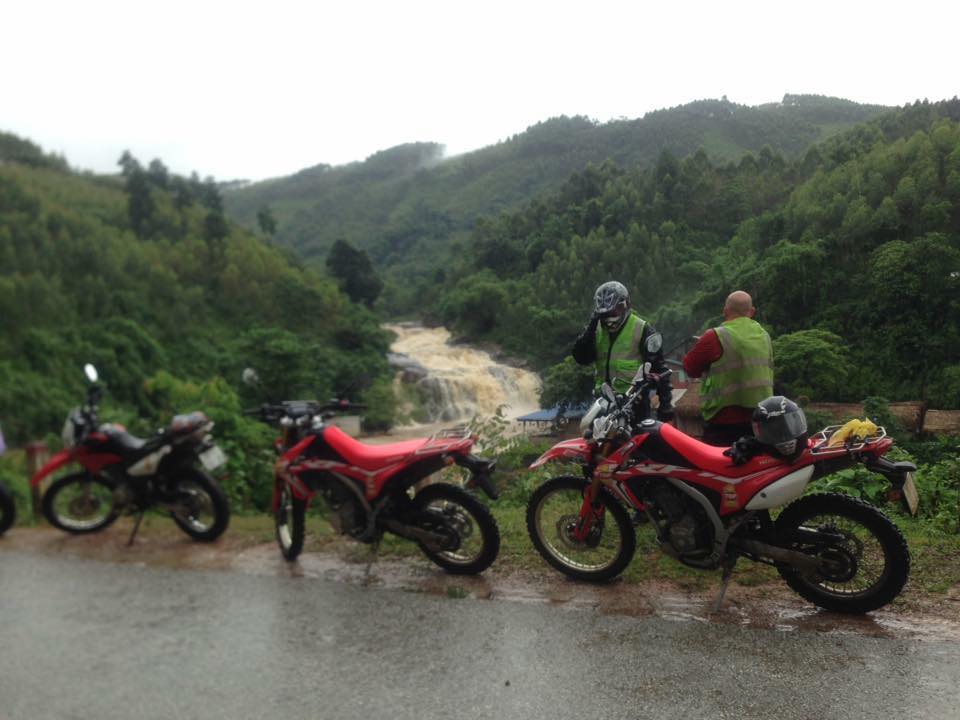 Lung Lo Pass, situated in the northern province of Yen Bai, has been recognised as a national heritage by the ministry. After lunch, we ride through the Mu Cang Chai massif, almost as high as the Fansipan. From the top, it offers one of the most beautiful views of North Vietnam. The ride is somewhat challenging but very rewarding.
Overnight in a hotel.
* Summary:
+ Distance: 210km
+ Meals: Breakfast, Lunch
+ Offroad Ratio: 60%
+ Accommodation: Hotel
Day 4: Vietnam Hung Phan Tour :  Than Uyen to Sapa Villages (Lao Cai)
We ride straight toward the main Fansipan Mountain range. There is also the option for a challenging back route which takes us through several river crossings. The massive mountain range dominates the road until finally we make the splendid climb up from Binh Lu to the top of the highest road pass in Vietnam (Tram Ton Pass).
Crossing into Lao Cai Province at over 2000m the view sweeps out over the main range for miles and miles, before we descend to the mountainous Sa Pa valley. Sa Pa is in Lao Cai Province, north-west Vietnam, and 350km north-west of Hanoi, close to the border with China. Sapa is famous both for its fine, rugged scenery and for its rich cultural diversity.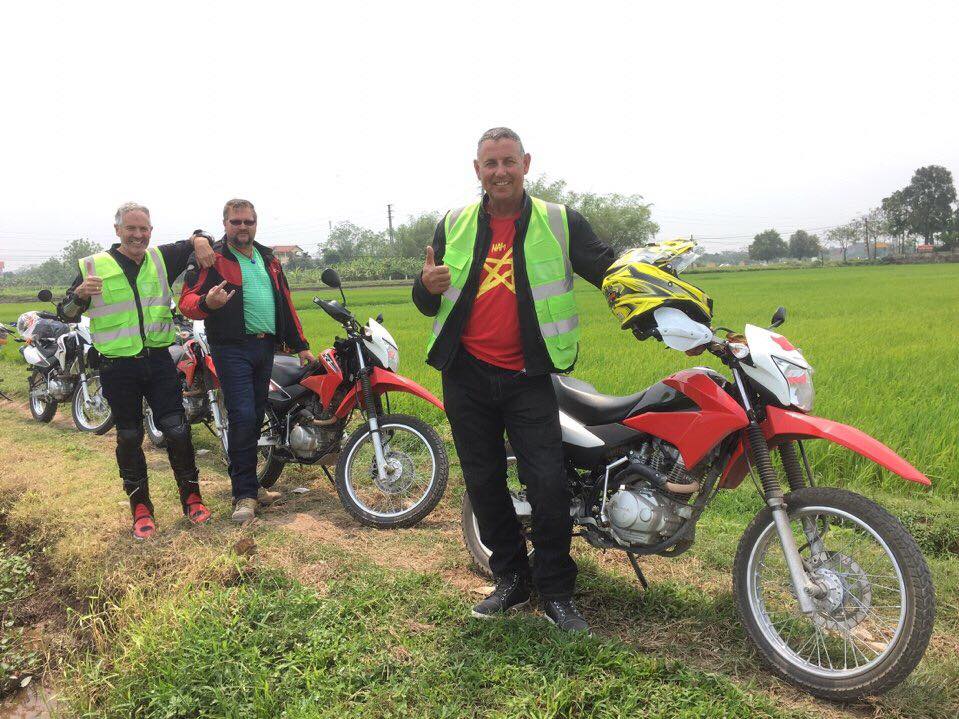 The French used Sapa as the Summer Capital of Northern Vietnam in the early decades of the 20th century. Its natural beauty keeps attracting more and more people to spend their vacation there since then. Particularly, the place is the foremost choice for honeymoon couples!
* Summary:
+ Distance: 110km
+ Meals: Breakfast, Lunch
+ Offroad Ratio: 60%
+ Accommodation: Hotel
Day 5: Vietnam Hung Phan Tour : Sapa to Bac Ha (Lao Cai)
Motorcycle down from Sapa to Lao Cai City and then have a coffee-stop on the bank of Nam Thi river, which is the Vietnam/China border. Enjoy your coffee while taking the view to China. Head to Road 70 before turning to Bac Ha on Road 153. Long touted as the weekend alternative to Sapa, this small highland town doesn't have the same dramatic location as its more illustrious neighbour, but it is calmer when Saturday comes.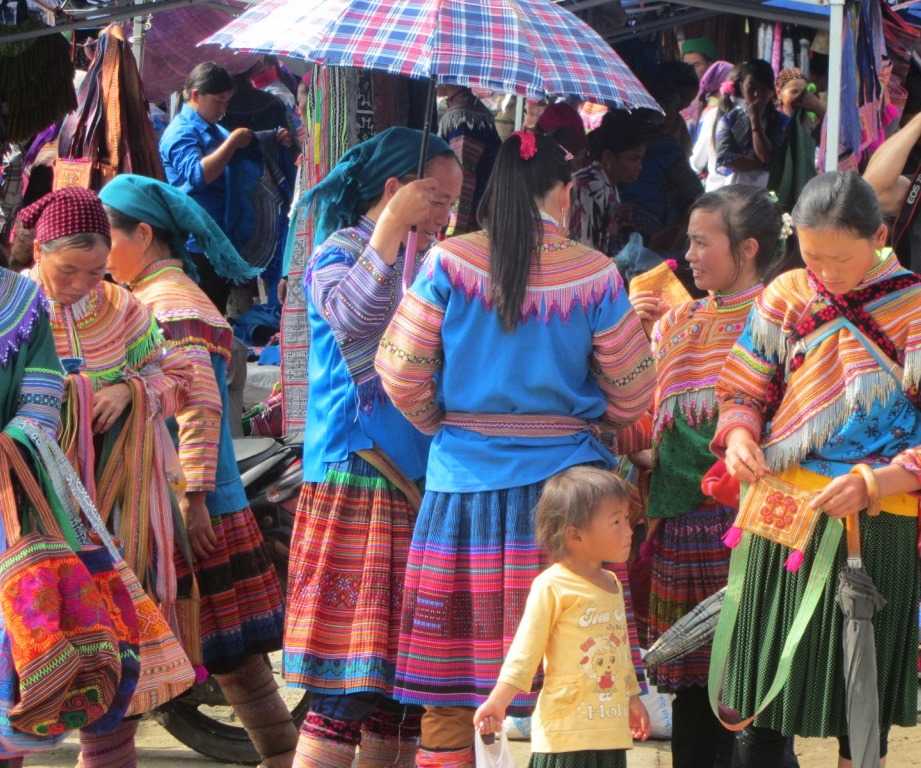 It fills up to choking point on Sunday morning, when visitors flood in to meet the Flower H'mong at the Bac Ha morning market. Compared with Sapa, tourism is still in its infancy here and during the week the town has a deserted feel. Bac Ha is a good base to explore the surrounding highlands. Around 900m above sea level, it is noticeably warmer than Sapa.
One of Bac Ha's main industries is she manufacture of alcoholic home brews (rice wine, cassava wine and corn liquor). The corn hooch produced by the Flower H'mong is so potent it will ignite! Bac Ha is the only place in Vietnam where you'll find this particular moonshine; there's an entire area devoted to it at the Sunday market.
Overnight in Bac Ha.
* Summary:
+ Distance: 120km
+ Meals: Breakfast, Lunch, Dinner
+ Offroad Ratio: 60%
+ Accommodation: Home-stay
Day 6: Vietnam Hung Phan Tour : Bac Ha to Ha Giang City
After breakfast, we ride on the track to Xin Man and Hoang Su Phi on many small; back roads with scenic mountain views. Xin Man is right on the border between Vietnam and China. It is well hidden and completely surrounded by wild mountains and forests.
There's a single road from Xin Man to Hoang Su Phi. Hoang Su Phi is among the most untouched area of Ha Giang Province of Vietnam. The area was separated from the mainstream society until very recently. Passing Hoang Su Phi, we will be charmed by the pristine beauty of the wild mountains and the authentic culture of the local ethnic groups which include: the Nung, the Flower H'mong, the Tay and the Ha Nhi People. After lunch, join the main road heading up to Ha Giang City, where we stop for the night and apply for a permit to ride the border.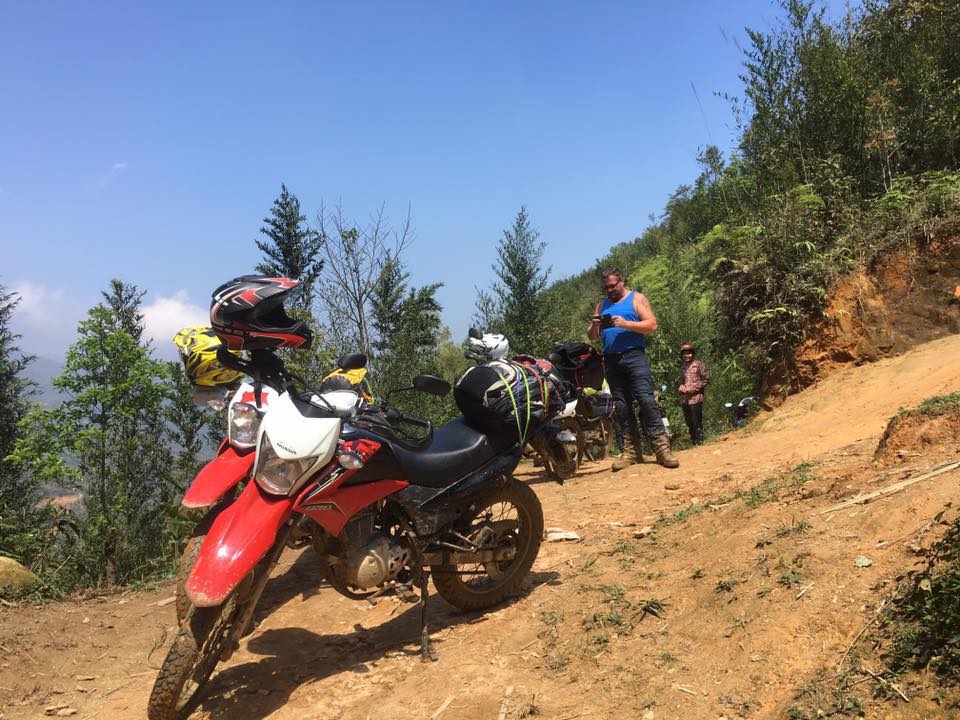 * Summary:
+ Distance: 200km
+ Meals: Breakfast, Lunch
+ Offroad Ratio: 60%
+ Accommodation: Hotel
Day 7: Vietnam Hung Phan Tour : Ha Giang to Dong Van (Ha Giang)
After getting the permit for riding in border areas at Ha Giang's Immigration Police, we ride on small, challenging but incredibly beautiful mountain roads through the land of colorful mountain hill-tribes. Then we go up the Ma Pi Leng Pass. Here is yet another amazing place, with cloudy mountain ranges and the poetic Nho Que river winding off in the distance.
It is really difficult to find the exact words to describe Ma Pi Leng Pass, located between Dong Van and Meo Vac, near the northernmost tip of Vietnam, as a painting of astonishing beauty and magnificence that captures the eyes of all viewers and nature lovers.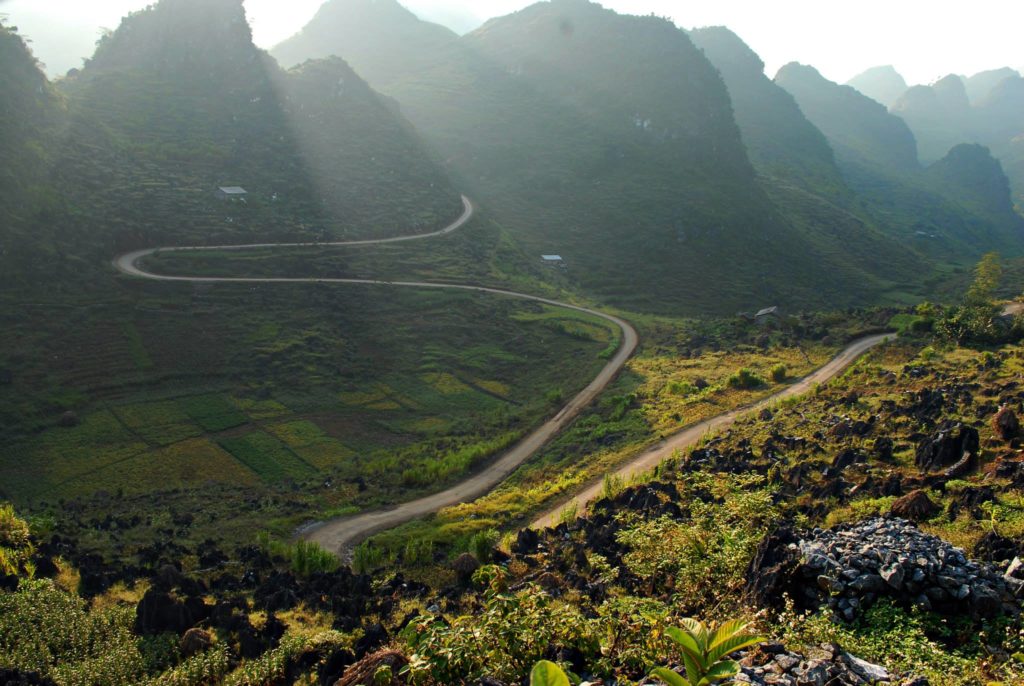 Ride on a zig-zag track until we reach Vuong Family's Residence, 14km before Dong Van. Vuong Family were considered the royalty of the Hmong People in Dong Van, Ha Giang. Their residence was built in the scenic valley of Sa Phin with Chinese architecture. The whole house was built only out of wood and rock. The rocks for the buildings were imported from China. Vuong Family Residence is a masterpiece of manmade work in the valley of heavenly beauty of Sa Phin.
This is a remote area and we can meet the hard-working local people here. It is inspiring to see how they survive as they manage to make a living among the rocks. When we reach Dong Van Town we will have some extra time to wander the ancient streets lined with H'mong homes of clay bricks and tiled roofs built centuries ago.
* Summary:
+ Distance: 160km
+ Meals: Breakfast, Lunch
+ Offroad Ratio: 40%
+ Accommodation: Hotel
Day 8: Vietnam Hung Phan Tour : Dong Van to Bao Lac
The morning ride is still winding along the Rock Plateau, after breakfast, enjoying some beautiful mountain passes until Meo Vac where we stop for lunch. In the afternoon, we will ride down along the river and see the different mountain view (less rocky and more green). Arrive in Bao Lac town at 5pm.
* Summary:
+ Distance: 120km
+ Meals: Breakfast, Lunch, Dinner
+ Offroad Ratio: 60%
+ Accommodation: Hotel
Day 9: Vietnam Hung Phan Tour : Bao Lac to Ba Be Lake
To save time for the boat trip in Ba Be lake, we should start the day early so after breakfast, we start riding at around 8am. Today is the best off-road route. After 20km from Bao Lac we turn to narrow and bumpy road with breathtaking view of terrace rice paddies.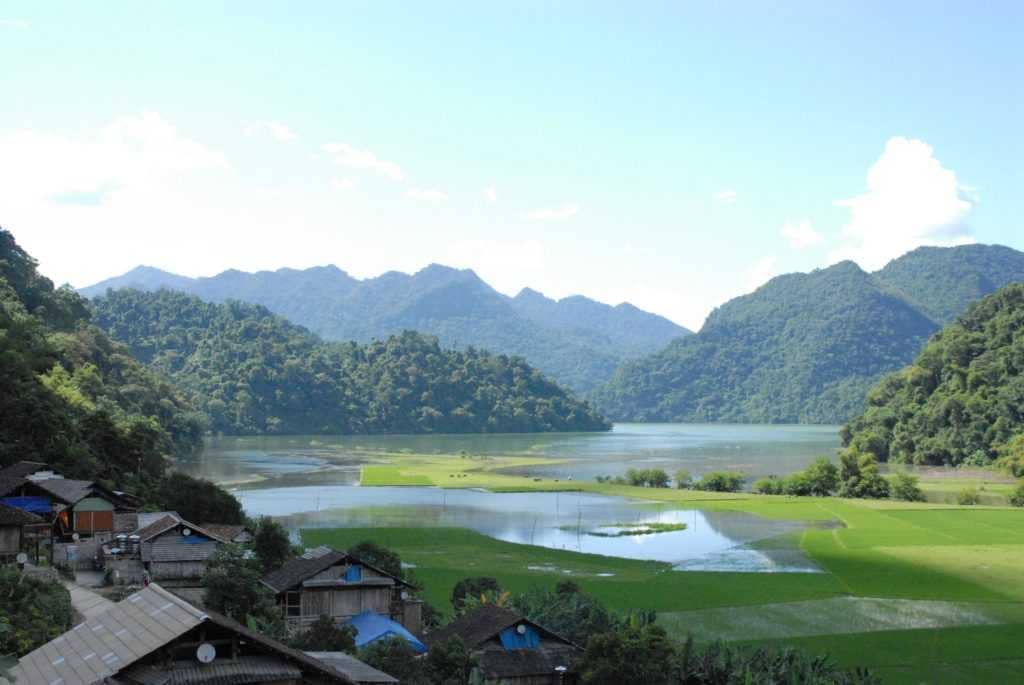 We cross a few rivers riding on bamboo bridges. Finish the memorable riding day with lunch in a peaceful village of the Tay people nearby Ba be lake. It's time for relaxing on one of the most beautiful and biggest natural lake in Vietnam in the afternoon.
* Summary:
+ Distance: 150km
+ Meals: Breakfast, Lunch, Dinner
+ Offroad Ratio: 40%
+ Accommodation: Homestay
Day 10: Vietnam Hung Phan Tour : Ba Be Lake to Hanoi
Staying off the main road for as long as possible we head back towards the Red River Delta, passing through areas inhabited by Hmong, Dao, Tay and Nung minority peoples. There's a mixture of both challenging track and glorious sealed road all the way back to Hanoi. Our great Vietnam motorbike tour to Ha Giang will end safely in Hanoi before the rush hour.
* Summary:
+ Distance: 240km
+ Meals: Breakfast, Lunch
+ Offroad Ratio: 20%
+ Accommodation: Hotel in Hanoi
Departure day – 15 March: Hanoi – Departure
After having breakfast at our hotel, you'll be at leisure until it's time to transfer to the airport for a departure flight home.
* ACCOMMODATION:
– We endeavour to select a combination of good quality hotels that reflect the character of the local area as well as being as centrally located as possible, all the while striving to keep the cost affordable.
– Your trip will stay in a range of hotels / guesthouses with standardized quality.
– Please be aware that some hotel rooms, especially those in major urban centres or older cities, may be smaller than what you are used to in other parts of the world. Standards and ratings may also be different to your home country.
– Rooms are en-suite and either twin- or triple-share, depending on what you have booked. If you are a solo traveller, you will always be sharing a room with someone of the same sex otherwise you can pay a supplement to possess a single room
– If you are traveling as a couple and would prefer to have a double bed, please officially request a double room with us. We never presume that two people traveling together are a couple, even if you share the same surname, unless informed otherwise.
* MEALS:
– Your included meals are detailed in the 'More Inclusions' section of this document.
– Breakfasts are included every day in the hotel (except on the first morning). They are usually 'continental breakfasts', which are typical in most countries. A typical breakfast may consist of cereals with milk or yoghurt, bread, croissants, cold meats, cheese and a range of spreads, with fruit juice, tea or coffee to drink. It is rare to get a hot breakfast in Asia, though on some occasions there may be some hot food available as well.
Included evening meals are in local restaurants or accommodation places, and are either two or three courses. In most cases table water is provided with the meals, and if you wish to purchase additional drinks you can do so at your own expense.
– If you have any dietary requirements we will make every effort to cater to your specific needs as long as you advise your travel agent when you book, or make note by email before you set out. But please be aware that although we will do everything in our power to arrange it, we cannot guarantee that every restaurant we use will be able to cater to all dietary needs, particularly in Asia. We also cannot cater for tastes or dislikes, as most of our included evening meals feature a set menu.
* Ten Tips to Survive Vietnam's Traffic:
+ DON'T spend hours waiting to cross the street on foot: that constant tide of traffic won't stop until late at night, so
+ DO as the Vietnamese do: take the plunge and inch slowly across. Observe the Miracle of the Red Sea, as the traffic parts like magic, flowing smoothly in front of you or behind, meeting up again on the other side.
+ DON'T make any sudden or unpredictable movements: freeze if you have to, but never lunge forward or backward towards the safety of the sidewalk. In fact, you can do just about anything, but do it with conviction!
+ DON'T forget, if you're riding or driving, to look where you're going – all the time: if you hit anything in front of you, then it's your fault.
+ DO give way to any vehicle bigger and noisier than yours. Trucks and buses are particularly dangerous: often old, sometimes unsafe and usually all over the road.
+ DO watch out for unfamiliar obstacles: water buffaloes, rocks of various sizes, broken-down trucks…, people sitting in the road, missing bridges, girls in ao dai cycling five abreast, slow-moving mountains of farm produce, dog fights, impromptu football matches, piles of building materials – and almost no light on anything at night..
+ DON'T hesitate to take evasive action – even if this sometimes means leaving the tarmac or coming to a dead stop.
+ DO try to avoid getting involved in one of the all-too-frequent minor accidents that plague Vietnam's roads (and the major ones as well, of course), but if you are unlucky,
+ DON'T lose your cool, in spite of the interference of the large and vocal crowd that may gather: try to settle things amicably and swiftly. Sometimes, paying a reasonable amount of money will save you a lot of hassle.
+ DO remember that the only rule is: you're not allowed to bump into anybody… irrespective of what they did or should have done, or of what the road signs or traffic lights were telling them to do. Some people still seem to think that anything red means forward, comrade
* Tipping for guides & mechanic:
Our crews never expect tips themselves and will not ask for any; that's not what friends do! However, so if you are really satisfied with all of what they did for you, please don't mind tipping them a bit with a normal norm of US$ 7 – US$ 10/person for a guide per day and US$ 3 – US$ 5/person for a mechanic per day. (just don't forget Mum's souvenir).
WHAT IS INCLUDED:
11 days, 12 nights Vietnam private group tour sharing double/twin rooms at standard hotels plus homestay

Private transfers for the airport pick-up and see-off

3-star hotels in Hanoi at start and finish of tour

Motorbike (Honda CRF250)

Helmet & riding gear (if needed)

Gasoline on tour

2 English speaking guides

1 Mechanic

Accommodation as indicated in the itinerary (based on twin or/and triple shared)

Homestay permission

Meals as indicated in the itinerary

Entrance fees & Sightseeing fees

Bottled water

1 coffee or 1 cold beer or 1 cold soft drink for every stopover on tour

Government taxes

Van to carry luggage

Add $220US if you want your own room
2017 - 2018 Dates & Prices ( Group Maximum 20 people )
List of group members click here
| From | To | Price from | Status |
| --- | --- | --- | --- |
| 2018-Mar-04 | 2018-Mar-14 | US$ 2310 | Book Now |
* OPTION 1 – Without Flights US $ 2310 per person
* OPTION 2 – With Flights US $ 2950 per person  WITH FLIGHTS – arrive on Saturday 3rd March 2018
* For those who want to stay at single room throughout the trip, the supplement would be US$ 240
Associated with AMM at : http://ausmotorcyclist.com.au/lets-go-to-vietnam/