ENCHANTING NORTH VIETNAM MOTORBIKE TOUR WITH HALONG BAY CRUISE – 10 DAYS
updated:
12/09/2017
0 comments
This popular motorbike tour starting from Hanoi inspires riders in search of the beauty of Vietnam Northwest where they ride from Hanoi to Sapa via Phu Yen, Lung Lo Pass, Khau Pha Pass, and especially Mu Cang Chai with the gorgeous mountain landscapes. You will stay the best friendly local homestay accommodation in Luc Yen and Thac Ba Lake before returning to Hanoi.
---
Destination: Hanoi Phu Yen Than Uyen Sapa Luc Yen Thac Ba

Duration: 10 Days / 09 Nights

Total approx: km.

Transport:

Price: Contact Us

Departure:Available on any days
Northern Vietnam Motorbike Tour from Sapa to Halong Bay – Itinerary:
DAY 1: Northern Vietnam Motorbike Tour from Sapa to Halong Bay : HANOI ARRIVAL
You will be met at the airport and transferred to the hotel for a check in
Overnight in Hanoi
DAY 2 : Northern Vietnam Motorbike Tour from Sapa to Halong Bay : HANOI MOTORCYCLE TOUR TO PHU YEN (SON LA)
In the morning we start our motorbiking tour by leaving Hanoi on dyke roads to avoid the heavy traffic and breaking out of the delta plains. We head out of Hanoi skirting along Red River to Son Tay and then ride through peaceful countryside to Phu Yen mountain town (a district of Son La Province in the Northwestern region of Vietnam), as a stop-over for a night.
Stay in guest house
Summary:
Distance: 160 km
Meals: Lunch, Dinner
Accommodation: Guest-house
DAY 3: Northern Vietnam Motorbike Tour from Sapa to Halong Bay : PHU YEN MOTORCYCLE TOUR TO THAN UYEN (LAI CHAU)
In the morning, we keep motorbiking across Lung Lo pass before head up on Road 32.
During the First Indochina War, the 15km-long Lung Lo Pass, used by the Vietnamese resistance force to transport weapons, goods and food during the Dien Bien Phu campaign of 1954, was heavily bombed by the French in order to sever the front lines from the rear. Lung Lo Pass, situated in the northern province of Yen Bai, was also recognised as a national heritage by the ministry.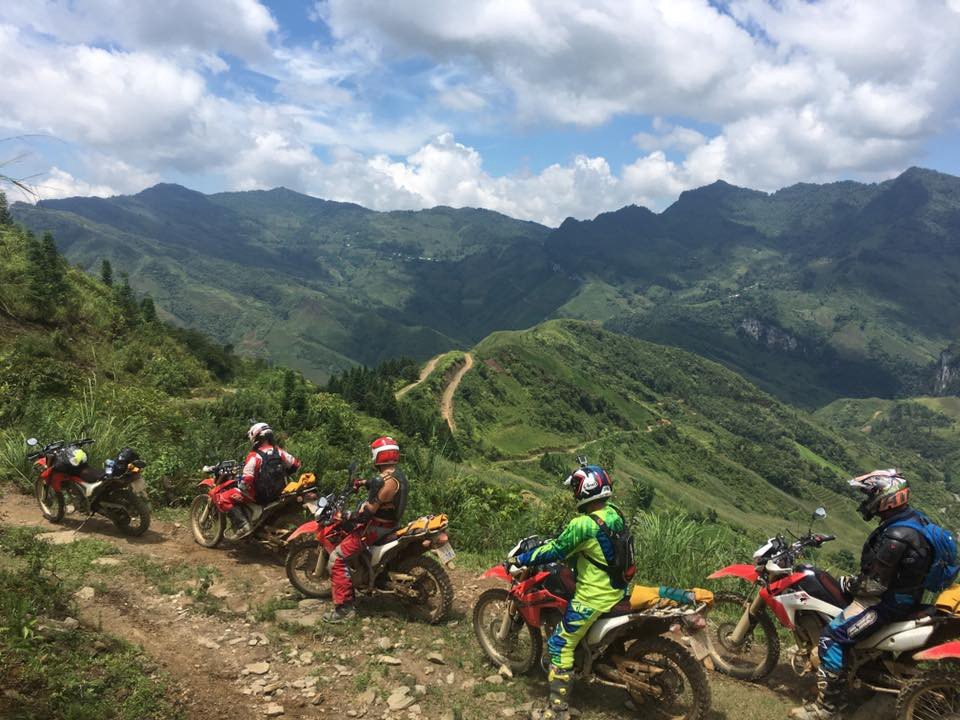 After lunch, we ride through the Mu Cang Chai massif, almost as high as the Fansipan. From the top, it offers one of the most beautiful views of North Vietnam. The ride is challenging but very rewarding.
Overnight in a hotel.
Summary:
Distance: 210 km
Meals: Breakfast, Lunch, Dinner
Accommodation: Hotel
DAY 4: Northern Vietnam Motorbike Tour from Sapa to Halong Bay : THAN UYEN MOTORCYCLE TOUR TO SAPA (LAO CAI)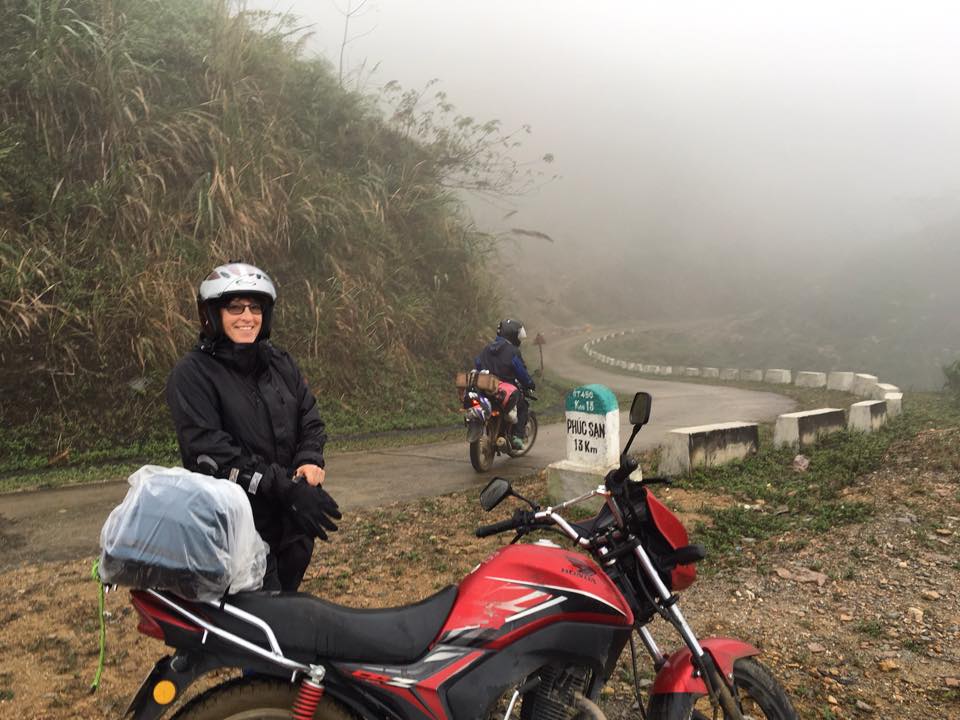 We motorbike straight toward the main Fansipan Mountain range. There is also the option for a very challenging back route which takes us through several river crossings. The massive mountain range dominates the road until finally we must make a splendid climb up from Binh Lu and up to the top of the highest road pass in Vietnam (Tram Ton Pass).
Crossing into Lao Cai Province at over 2,000m the views looks out over the main range for miles and miles, before we descend to the mountainous Sa Pa valley. Sa Pa is located in Lao Cai Province, north-west Vietnam, and 350 km north-west of Hanoi, close to the border with China. Sapa is famous both for its fine, rugged scenery and for its rich cultural diversity. French used to consider Sapa as Summer Capital of Northern Vietnam in the early decades of the 20th century. Its naturally gifted beauty keeps attracting more and more people to spend their vacation there since then. Particularly, the place is the foremost choice for honeymoon couples!
Overnight in Hotel.
Summary:
Distance: 110 km
Meals: Breakfast, Lunch, Dinner
Accommodation: Hotel
DAY 5: Northern Vietnam Motorbike Tour from Sapa to Halong Bay : SAPA MOTORCYCLE TOUR TO LUC YEN (YEN BAI)
Take our motorbikes down from Sapa to Lao Cai City and then have a coffee-stop on the bank of Nam Thi river, which is Vietnam – China border. Enjoy your coffee while taking the view to China.
Head to Road 70 before turn to Luc Yen on Road 152. We through palm forest all the way to Luc Yen and stay in a family in the Tay territory. It's a great home stay and the hosts are very welcoming.
Summary:
Distance: 170 km
Meals: Breakfast, Lunch, Dinner
Accommodation: Home-stay
DAY 6: Northern Vietnam Motorbike Tour from Sapa to Halong Bay : LUC YEN MOTORCYCLE TOUR TO VU LINH VILLAGE (THAC BA LAKE, YEN BAI)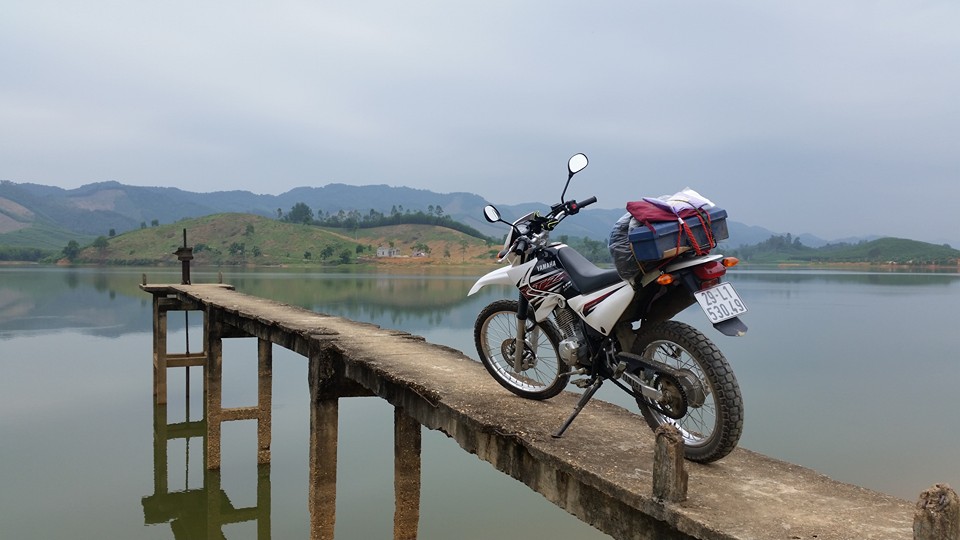 Get on the road, take a half-day ride to our Dao friends' village of Vu Linh, which by the side of Thac Ba lake, the biggest man-made lake in Vietnam. This artificial lake has an area of 23,400 ha and 1,331 islands and hills with diverse ecological environments. The water in the lake is blue and clear, and imprinted with the reflections of the surrounding ancient forest. The thousands of hills and islands feature caves such as the Hum, Cau Cuoi and Bach Xa.
After lunch, we take the boat ride, stop by an island for swimming and discover the particularities of this area: the way villagers paddle their boats, the exotic and odd animals living around, the quiet and peaceful beauty of this huge lake, the lifestyle of the Dao among the thousands of islets.
We will have an unforgettable dinner with the hosts, whose are really big drinkers and they party every day. The welcome is exceptional and we hope you will survive.
Summary:
Distance: 80 km
Meals: Breakfast, Lunch, Dinner
Accommodation: Home-stay
DAY 7: Northern Vietnam Motorbike Tour from Sapa to Halong Bay : VU LINH VILLAGE (THAC BA LAKE) MOTORCYCLE TOUR TO HANOI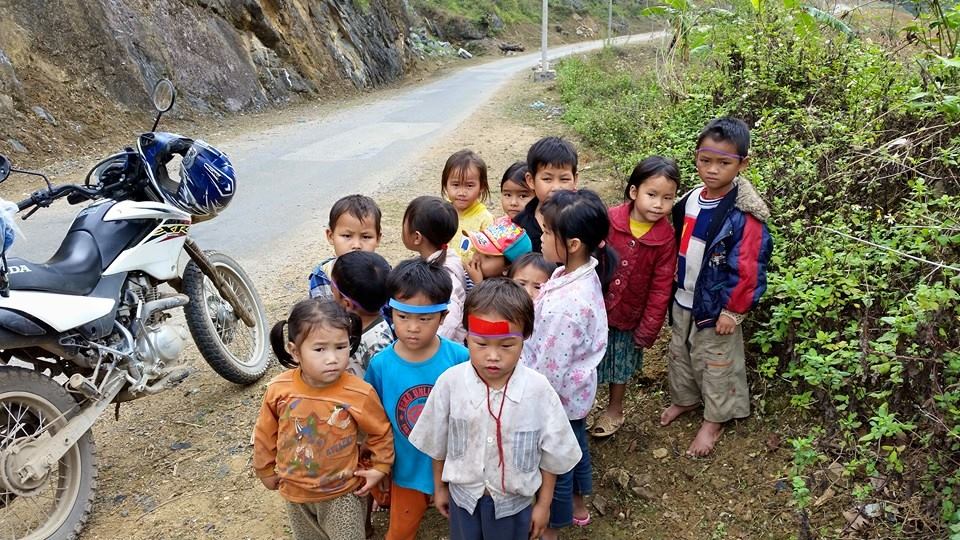 After breakfast we ride southeast on Highway 2 and then branch off to the sleepy townof Phu Tho. We follow the edge of the Red River along the dyke, almost to the point where it merges with the Black River after which they flow together to Hanoi.
By now we are very much in the lowlands of the delta plains and the north's main agricultural areas. Harvest time here is a sea of activity. Crossing the Black River by bridge, we pass Vu Linh Motorbike tours to hanoithrough Son Tay and then return to Hanoi on the highway. We should be back to Hanoi before rush-hour (4 pm) because traffic's getting busier and busier. Overnight in Hanoi
Summary:
Distance: 180 km
Meals: Breakfast, Lunch.
DAY 8: Northern Vietnam Motorbike Tour from Sapa to Halong Bay : HANOI – FLAMINGO CRUISE (B/L/D)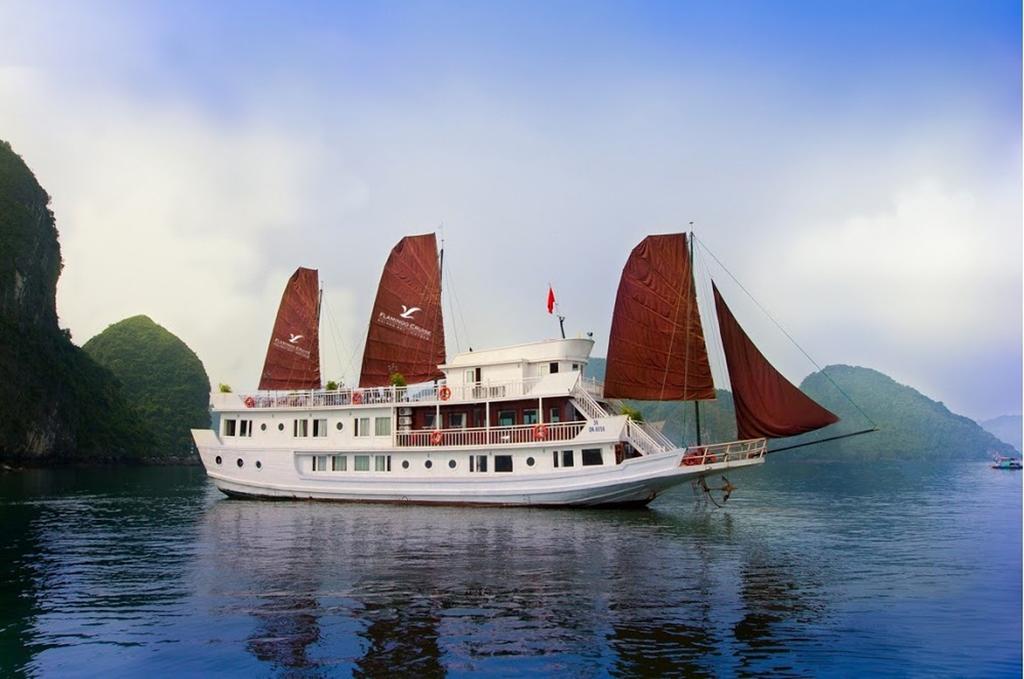 7:30 – 08:30: Our SHUTTLE BUS with tour guide will pick you up at your hotels (Note: This pick-up is just applied for those who use our shuttle bus service)
10h30: Stopover in Hai Duong city  where you can experience our hand-made Vietnamese handicraft products.
12h30: Arrive in Tuan Chau Marina Pier (Tuan Chau Island). Followed by activities:
+ Boarding FLAMINGO CRUISEs for departure.
+ Welcome drink will be served and cruise briefing, safety instructions, check-in cabins by Cruise Manager.
+ Great lunch is served while cruising passing by islets, through Hoa Cuong floating village.
+ Exploration of Halong Bay passing by Soi Sim Beach, Coconut Three Island. Then arrive in the area of Surprising Cave.
+ Kayaking & swimming or climbing up to the mountain and getting a complete view of Halong Bay at Titov Beach
+ Joining our COOKING CLASS on the sun-deck. Let's see how to make the fresh/fried spring rolls and mix fish-sauce.
+ Enjoy sunset party with fruits and wine.
19:30: Under the magnificent night sky, Our luxury set-menu dinner is served with a variety of Vietnamese and Asian foods.
Evening activities include:
+ Join the SQUID FISHING on boat with our crews. You can enjoy the squid cooked with assistance from our chef.
+ Or Laze yourself with our happy-hour drinks at the bar.
Overnight on Flamingo Cruise.
DAY 9: Northern Vietnam Motorbike Tour from Sapa to Halong Bay : HALONG BAY – HANOI (B/L/D)
06:15: Tai Chi class on the Sun-deck.
07:15: Have breakfast with Coffee, tea and Bakeries on board.
08:00: Visit the SURPRISING CAVE (Hang Sung Sot) discovered by the French in 1901. Opened for tourists since 1936, now it is a must-to-see and a symbol for geology value of Halong.
09:30: Check out time. Then relax on the sun-deck or inside the restaurant to enjoy the bay's scenery.
10h15: Enjoying a traditional Vietnamese lunch while cruising back to the pier.
12:00: Disembarkation at Tuan Chau Pier. Our car will be at your disposal to pick you up then drive back to Hanoi.
16:00: Arrive in Hanoi. End of the trip!
DAY 10: Northern Vietnam Motorbike Tour from Sapa to Halong Bay: HANOI – DEPARTURE (B/-/-)
Breakfast at hotel. You have free time by your own to have more experience in Hanoi until transfer to the Hanoi airport to catch a flight back home.
End of services.
MOTORBIKE TOUR QUOTE FROM DAY 1- DAY 7
=> The tour price applied to the private group of  minimum 2 people riding geared scooters of 110cc or 125cc & sharing double/twin room at standard hotels plus homestay is US$ 1420/person
=> The supplement for those who want to stay at single room (Day 1 – Day 7) is US$ 224
=> The surcharge for the manual dirt bikes of 125cc, 150cc & 250cc is US$ 10/bike/day, US$ 18/bike/day and US$ 30/bike/day respectively.
* NOTES:
+ Those prices will be valid from 1 Sep 2016 till 31 Dec 2017 except for the period from 26 Jan – 2 Feb 2017.
+ This tour is also always available from 1 Sep 2016 till 31 Dec 2017 except for the period from 26 Jan – 2 Feb 2017.
QUOTE FOR EXTRA SERVICES FROM DAY 8 TO DAY 10
Price in US dollars applied for the group of minimum 2 persons : 304 USD per person
The supplement for those who want to stay at a single room (Day 8 – Day 10) is US$ 128
ENCHANTING NORTH VIETNAM MOTORBIKE TOUR WITH HALONG BAY CRUISE – 10 DAYS




Rating:

9.8

out of

10

based on

376

reviews.
* ACCOMMODATION:
– We endeavour to select a combination of good quality hotels that reflect the character of the local area as well as being as centrally located as possible, all the while striving to keep the cost affordable.
– Your trip will stay in a range of hotels / guesthouses with standardized quality.
– Please be aware that some hotel rooms, especially those in major urban centres or older cities, may be smaller than what you are used to in other parts of the world. Standards and ratings may also be different to your home country.
– Rooms are en-suite and either twin- or triple-share, depending on what you have booked. If you are a solo traveller, you will always be sharing a room with someone of the same sex otherwise you can pay a supplement to possess a single room
– If you are traveling as a couple and would prefer to have a double bed, please officially request a double room with us. We never presume that two people traveling together are a couple, even if you share the same surname, unless informed otherwise.
* MEALS:
– Your included meals are detailed in the 'More Inclusions' section of this document.
– Breakfasts are included every day in the hotel (except on the first morning). They are usually 'continental breakfasts', which are typical in most countries. A typical breakfast may consist of cereals with milk or yoghurt, bread, croissants, cold meats, cheese and a range of spreads, with fruit juice, tea or coffee to drink. It is rare to get a hot breakfast in Asia, though on some occasions there may be some hot food available as well.
Included evening meals are in local restaurants or accommodation places, and are either two or three courses. In most cases table water is provided with the meals, and if you wish to purchase additional drinks you can do so at your own expense.
– If you have any dietary requirements we will make every effort to cater to your specific needs as long as you advise your travel agent when you book, or make note by email before you set out. But please be aware that although we will do everything in our power to arrange it, we cannot guarantee that every restaurant we use will be able to cater to all dietary needs, particularly in Asia. We also cannot cater for tastes or dislikes, as most of our included evening meals feature a set menu.
* Ten Tips to Survive Vietnam's Traffic:
+ DON'T spend hours waiting to cross the street on foot: that constant tide of traffic won't stop until late at night, so
+ DO as the Vietnamese do: take the plunge and inch slowly across. Observe the Miracle of the Red Sea, as the traffic parts like magic, flowing smoothly in front of you or behind, meeting up again on the other side.
+ DON'T make any sudden or unpredictable movements: freeze if you have to, but never lunge forward or backward towards the safety of the sidewalk. In fact, you can do just about anything, but do it with conviction!
+ DON'T forget, if you're riding or driving, to look where you're going – all the time: if you hit anything in front of you, then it's your fault.
+ DO give way to any vehicle bigger and noisier than yours. Trucks and buses are particularly dangerous: often old, sometimes unsafe and usually all over the road.
+ DO watch out for unfamiliar obstacles: water buffaloes, rocks of various sizes, broken-down trucks…, people sitting in the road, missing bridges, girls in ao dai cycling five abreast, slow-moving mountains of farm produce, dog fights, impromptu football matches, piles of building materials – and almost no light on anything at night..
+ DON'T hesitate to take evasive action – even if this sometimes means leaving the tarmac or coming to a dead stop.
+ DO try to avoid getting involved in one of the all-too-frequent minor accidents that plague Vietnam's roads (and the major ones as well, of course), but if you are unlucky,
+ DON'T lose your cool, in spite of the interference of the large and vocal crowd that may gather: try to settle things amicably and swiftly. Sometimes, paying a reasonable amount of money will save you a lot of hassle.
+ DO remember that the only rule is: you're not allowed to bump into anybody… irrespective of what they did or should have done, or of what the road signs or traffic lights were telling them to do. Some people still seem to think that anything red means forward, comrade
* Tipping for guides & mechanic:
Our crews never expect tips themselves and will not ask for any; that's not what friends do! However, so if you are really satisfied with all of what they did for you, please don't mind tipping them a bit with a normal norm of US$ 7 – US$ 10/person for a guide per day and US$ 3 – US$ 5/person for a mechanic per day. (just don't forget Mum's souvenir).
Inclusions
Motorbike(s) (Honda or Yamaha)

Helmet(s)

Driving gears

Gasoline on tour

English speaking guide

Accommodation as indicated in the itinerary (based on twin or/and triple shared)

Homestay permission

Meals as indicated in the itinerary

Entrance fees & Sightseeing fees

2-night accommodation at 3 star hotels in Hanoi - (Essence D'Orient Hotel or Noble Boutique hotel)

On arrival pickup airport transfer with guide

1-way departure airport transfer with guide

One night Flamingo Cruise Halong (Deluxeb Cabin) with round-trip seat-in-coach shuttle bus

http://flamingocruises.vn/

1-night accommodation at a 3-star hotel (Superior room at Essence D'Orient Hotel or Deluxe room at Noble Boutique hotel)
Exclusions
Travel insurance

Visa

Air-ticket

Tips

Personal expenses

VIEW ROUTE MAP