GREAT HO CHI MINH TRAIL MOTORBIKE TOUR FROM SAIGON TO HOI AN – 9 DAYS
updated:
05/09/2017
0 comments
This is the chance to see the countryside of Vietnam on a 9-day motorbike trip from Saigon to Hoi An, or in the other direction if you prefer. During your tour you'll stop at waterfalls, lakes, and hot springs, visit the villages of minority tribes, and see agricultural production and the production of numerous local items as well.
---
Destination: Saigon Dong Xoai Di Linh Da Lat Lak Lake Buon Ma Thuot Pleiku Kontum Kham Duc Hoi An

Duration: 9 Days/8 Nights

Total approx: 1550 km.

Transport:

Price: Contact Us

Departure:Any day upon request
Day 1: Saigon motorbike tour to Dong Xoai (170 km)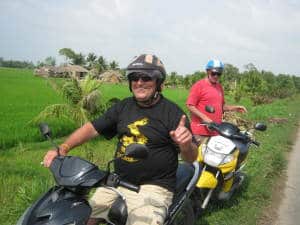 Today we start our amazing Ho Chi Minh Trail motorbike tour. The first is we will ride to visit the historic Cu Chi tunnels, an immense network of connecting underground tunnels located to the north-west of Ho Chi Minh City. See how rice wine and rice paper are made and visit cashew nut and rubber tree plantations.
Overnight at the Thanh Sang Hotel in Dong Xoai.
Meals: Lunch, Dinner
Day 2: Dong Xoai motorbike tour to Di Linh (195 km)
Leaving Dong Xoai you'll ride along a country road, passing cashew nut plantations, before joining Highway 20. Visit a crocodile park and enjoy a trek into a rock cave, about 10 kilometers up on the mountain pass. Take in the stunning views of the mountains, and then head off-road again to the 90-meter-high Dambri Waterfall. After another 30 kilometers of riding you'll reach Di Linh. Overnight at the Nhat Minh Hotel (standard room with hot/cold shower).
Meals: Breakfast, Lunch, Dinner
Day 3: Di Linh motorbike tour to Da Lat (205 km)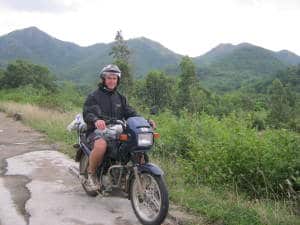 Make a brief visit to the Chicken minority village, and then ride into the mountains, making another quick visit to a mushroom farm. Enjoy stops at the Datanla Waterfall, and at Paradise Lake, where you'll see one of the largest meditation center in Vietnam. When you arrive in Da Lat city, you'll see the famous crazy house. Overnight at Les Sapins Hotel (family run hotel, standard room with hot/cold shower).
Meals: Breakfast, Lunch, Dinner
Day 4: Da Lat motorcycle tour to Lak Lake (160 km)
After breakfast you'll visit the Dragon Pagoda and the Lat minority village. Have a chat with the village leader, enjoy his gong music show, and try a drink of the local wine. Next you'll ride along a country road to visit a Dalat farm that grows vegetables, a greenhouse to admire the flowers, a coffee plantation, a silk village, and the Elephant Waterfall. Enjoy Vietnamese coffee at a local café and then see how Vietnamese rice wine is made. When you arrive at Lak Lake you'll visit the Jun minority village and then check in at the long-stilt-house. Overnight at a home stay in Jun village with M'Nong minority people.
Meals: Breakfast, Lunch, Dinner
Day 5: Lak Lake motorbike tour to Buon Me Thuot City (140 km)
On the way to Buon Me Thuot city, you'll have a half-hour trek to the top of Elephant Rock Mountain. Back on your bike and on the road again you'll take in the panorama of rice paddy fields. Continue the ride to Buon Me Thuot city and then take the Ho Chi Minh Trail to visit Dray Sap, Gia Long Falls, and the Dray Nur Falls. Stop for a swim in a natural pool in the middle of the park, and then continue through the national park. Head back to Buon Me Thuot city. Overnight at the 1-star Eden Hotel.
Day 6: Buon Me Thuot City motorbike tour to Plei Ku (195 km)
Travel north along the Ho Chi Minh Trail and stop to visit the war monument to the former North Vietnam radio operator soldiers. Take in the spectacular views of rubber plantations and cashew and black pepper gardens. See local Vietnamese making rice paper and rice noodles and make a brief stop to visit Sea Lake in Plei Ku city. Enjoy a swim if you like, go kayaking on the lake, or take a walk in the pine tree forest. Overnight at the Dang Xua Hotel (standard room with hot/cold shower).
Meals: Breakfast, Lunch, Dinner
Day 7: Plei Ku motorbike tour to Kon Tum (140 km)
In the early morning you'll head out on an 80-kilometer ride to the north-east to the Mang Den town known as Dalat 2. Visit the beautiful lake and waterfall in the middle of the jungle. Stop at another minority village, where the Ba Na people live in their traditional communal Rong house. Travel back to Kon Tum, stopping at a very old and unique wooden church, and at an orphanage to visit the children who live there. Overnight at the 1-star Hoang Thinh Hotel.
Meals: Breakfast, Lunch, Dinner
Day 8: Kon Tum motorcycle tour to Kham Duc (170 km)
Travel approximately 42 km north from Kon Tum to Dakto village, which was the site of a major battle during the American War. Stop in Daklei province to see a Trieng minority village and try crossing their tiny hanging bridge! Continue on your ride and stop at the Dak Ha hot spring and enjoy bathing in the fresh spring waters. Overnight at the 2-star Be Chau Giang Hotel.
Meals: Breakfast, Lunch, Dinner
Day 9: Kham Duc motorcycle tour to Hoi An (161 km)
Take Highway 14E to Hoi An. See how incense and chopsticks are made. Cross the Thu Bon River by ferry to My Son, the land of the Cham Pa Kingdom. You'll arrive in Hoi An in the afternoon, marking the end of the tour.
Meals: Breakfast, Lunch
GREAT HO CHI MINH TRAIL MOTORBIKE TOUR FROM SAIGON TO HOI AN – 9 DAYS




Rating:

9.8

out of

10

based on

377

reviews.
* ACCOMMODATION:
– We endeavour to select a combination of good quality hotels that reflect the character of the local area as well as being as centrally located as possible, all the while striving to keep the cost affordable.
– Your trip will stay in a range of hotels / guesthouses with standardized quality.
– Please be aware that some hotel rooms, especially those in major urban centres or older cities, may be smaller than what you are used to in other parts of the world. Standards and ratings may also be different to your home country.
– Rooms are en-suite and either twin- or triple-share, depending on what you have booked. If you are a solo traveller, you will always be sharing a room with someone of the same sex otherwise you can pay a supplement to possess a single room
– If you are traveling as a couple and would prefer to have a double bed, please officially request a double room with us. We never presume that two people traveling together are a couple, even if you share the same surname, unless informed otherwise.
* MEALS:
– Your included meals are detailed in the 'More Inclusions' section of this document.
– Breakfasts are included every day in the hotel (except on the first morning). They are usually 'continental breakfasts', which are typical in most countries. A typical breakfast may consist of cereals with milk or yoghurt, bread, croissants, cold meats, cheese and a range of spreads, with fruit juice, tea or coffee to drink. It is rare to get a hot breakfast in Asia, though on some occasions there may be some hot food available as well.
Included evening meals are in local restaurants or accommodation places, and are either two or three courses. In most cases table water is provided with the meals, and if you wish to purchase additional drinks you can do so at your own expense.
– If you have any dietary requirements we will make every effort to cater to your specific needs as long as you advise your travel agent when you book, or make note by email before you set out. But please be aware that although we will do everything in our power to arrange it, we cannot guarantee that every restaurant we use will be able to cater to all dietary needs, particularly in Asia. We also cannot cater for tastes or dislikes, as most of our included evening meals feature a set menu.
* Ten Tips to Survive Vietnam's Traffic:
+ DON'T spend hours waiting to cross the street on foot: that constant tide of traffic won't stop until late at night, so
+ DO as the Vietnamese do: take the plunge and inch slowly across. Observe the Miracle of the Red Sea, as the traffic parts like magic, flowing smoothly in front of you or behind, meeting up again on the other side.
+ DON'T make any sudden or unpredictable movements: freeze if you have to, but never lunge forward or backward towards the safety of the sidewalk. In fact, you can do just about anything, but do it with conviction!
+ DON'T forget, if you're riding or driving, to look where you're going – all the time: if you hit anything in front of you, then it's your fault.
+ DO give way to any vehicle bigger and noisier than yours. Trucks and buses are particularly dangerous: often old, sometimes unsafe and usually all over the road.
+ DO watch out for unfamiliar obstacles: water buffaloes, rocks of various sizes, broken-down trucks…, people sitting in the road, missing bridges, girls in ao dai cycling five abreast, slow-moving mountains of farm produce, dog fights, impromptu football matches, piles of building materials – and almost no light on anything at night..
+ DON'T hesitate to take evasive action – even if this sometimes means leaving the tarmac or coming to a dead stop.
+ DO try to avoid getting involved in one of the all-too-frequent minor accidents that plague Vietnam's roads (and the major ones as well, of course), but if you are unlucky,
+ DON'T lose your cool, in spite of the interference of the large and vocal crowd that may gather: try to settle things amicably and swiftly. Sometimes, paying a reasonable amount of money will save you a lot of hassle.
+ DO remember that the only rule is: you're not allowed to bump into anybody… irrespective of what they did or should have done, or of what the road signs or traffic lights were telling them to do. Some people still seem to think that anything red means forward, comrade
* Tipping for guides & mechanic:
Our crews never expect tips themselves and will not ask for any; that's not what friends do! However, so if you are really satisfied with all of what they did for you, please don't mind tipping them a bit with a normal norm of US$ 7 – US$ 10/person for a guide per day and US$ 3 – US$ 5/person for a mechanic per day. (just don't forget Mum's souvenir).
Inclusions
+ Motorbike(s) (Honda or Yamaha)

+ Helmet(s)

+ Driving gears

+ Gasoline on tour

+ English speaking guides

+ Mechanic (only for group from 6 passengers)

+ Accommodation as indicated in the itinerary (based on Twin or Double room)

+ Homestay permission

+ Meals as indicated in the itinerary

+ Entrance fees & Sightseeing fees

+ Coffee or bottled water or 1 soft drink for every stopover en route.
VIEW ROUTE MAP