KOH KER TEMPLE
11/12/2014
By Ha Nguyen
0 comments
Accessible from Tbeng Meanchey, although more usually visited from Siem Reap, is Koh Ker ($10 for foreigners), Cambodia's most remote Angkorian temple. Practically engulfed by jungle, it has been heavily looted and badly neglected, but plenty of monuments remain for the intrepid explorer, and its grandeur and majesty are still apparent.
Cheap NIKE NFL Jerseys and Wholesale nfl Jerseys or Wholesale NFL jerseys
wholesale Jerseys China Cheap NFL jerseys
Located in rocky, scrub-covered terrain, Koh Ker was briefly capital of the Khmer Empire in the tenth century, when Jayavarman IV – who was already ruler of his own state here when he ascended the imperial throne – decided not to relocate to Angkor, but decreed instead that the court should come to him. Koh Ker is particularly renowned for its massive statues, which were the first in Khmer art to depict movement.
From Tbeng Meanchey it's a three-hour, 70km moto ride to Koh Ker, best tackled in the dry season (Nov–May). A few stalls along the way have food and drink, but there's little else. The area is still heavily mined, so stick to well-trodden paths and resist the temptation to dive off into undergrowth to explore on your own.
An alternative approach to Koh Ker (and the one most people choose) is on the recently upgraded road from Siem Reap, in parts surfaced, in parts graded. This road dates back to the time of Jayavarman IV, when Koh Ker was linked to Angkor, and the temples of Beng Mealea and Banteay Samre were built along it. The road has been reopened by a private company, making it possible to visit Koh Ker as a day-trip from Siem Reap, perhaps stopping off at Beng Mealea on the way back; expect it to take around three hours in a Camray (hire cost around $90) and to pay a road toll of $5.
The earliest structures here, Prasat Thom and Prasat Kraham, had already been built by the time Jayavarman IV ascended the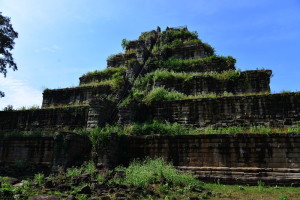 throne. Entered from the east, Prasat Thom features three enclosures arrayed in a line, with the sanctuary at the centre of the final courtyard. The distinctive red-sandstone Prasat Kraham is part of the main gopura to the third enclosure, and has a full tower. A massive fragmented statue of Shiva was found here, with five heads and eight arms (the hands are displayed in the National Museum in Phnom Penh). Through the gopura is a wide moat, crossed by a causeway with naga balustrades, giving onto a narrow second enclosure, where long narrow buildings almost form a gallery. A final gopura through a sandstone wall leads into the first enclosure, where a terrace supports nine small sanctuaries in two rows, five in front and four behind; there are also the remains of twelve minor towers spread around the courtyard in various states of disrepair.
To the west, beyond Prasat Thom though unusually sharing a common wall, is the Prang, a 35-metre-high, seven-tiered sandstone pyramid; there's a stairway up its eastern side – though sometimes you may be stopped from climbing it. The Prang was meant to be Jayavarman IV's state-temple but was never completed; instead of a sanctuary tower, there's just a pedestal at the top, which would have supported a statue of Nandin. Just as high as the Prang is the man-made hill beyond, oddly known as Pnoh Damrei Saw, the Tomb of the White Elephant. More sanctuaries can be found east of the Rohal, a baray over 1km long hewn out of the rock at Jayavarman IV's instigation. In total there are believed to be around 86 temples in and around the site.