KRATIE AND AROUND
19/12/2014
By Ha Nguyen
0 comments
Seventy kilometres north of Kompong Cham on the east bank of the Mekong, KRATIE (pronounced Kra-cheh) is especially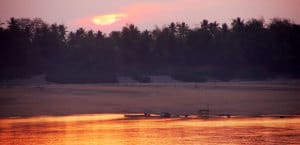 lovely when the river is low and the town seems to be perched on a hill, from the top of which you can look out over the sandy beaches of Koh Troung, the large island across from the town. In the rainy season, it's another story, as the surrounding country is engulfed by water and the town virtually turns into an island.
Thanks to the dolphins upstream at nearby Kampie, Kratie has become a popular stopover on the backpacking circuit. The town itself is a pleasant enough spot to stay overnight, which is about all the majority of visitors do, generally arriving on the first bus in the late morning and spending the afternoon dolphin-spotting before making an escape the next day. A couple of pagodas to the north can easily be visited by moto if you allow yourself a little more time: en route to Kampie you'll pass the appealing hilltop pagoda at Phnom Sambok, while further north, about 30km from Kratie, Sambor is a quaint little village featuring an outsized pagoda.
Kratie escaped damage despite being occupied by the Khmer Rouge early in their campaign, and the town still has a distinctly French feel, the riverfront retaining some tatty but attractive colonial terraces. To the south of the town centre is a series of large colonial buildings (now housing government departments) and the gracious provincial governor's residence, where tame deer graze in the garden. Life in Kratie revolves around the river, and the riverfront is a good place to watch the comings and goings while you settle down with some sugar-cane juice at one of the stalls.
Cheap NIKE NFL Jerseys and Wholesale nfl Jerseys or Wholesale NFL jerseys
wholesale Jerseys China Cheap NFL jerseys