MUANG SING AND AROUND
05/12/2014
By Ha Nguyen
0 comments
MUANG SING, located some 60km northwest of Luang Namtha, has developed a small, low-key tourist scene based around the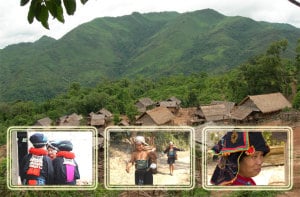 trekking opportunities in the beautiful surrounding valley. The town makes a nice alternative to Luang Namtha, retaining a much more local feel, and with the market drawing people from the local tribes, you're likely to encounter a number of women in traditional dress. Though the opportunities for trekking are not quite as developed as in Luang Namtha, for many this remains the premier hill-trekking destination in Northern Laos.
Muang Sing, though small, is fairly spread out; that said, most tourist facilities lie on the main road, though it's worth exploring the quieter roads behind for a glimpse of local life. On the main road, the tribal museum, a simple but elegant wooden building, houses local textiles, tribal costumes and some Buddha images. Unfortunately, it's rarely open during its advertised hours – though you might be able to find someone who can let you in if you walk around the building. Tucked behind the museum is the town's principal temple, the ancient-looking Wat Sing Jai, which has a wonderfully rustic sim painted in festive hues. If you come in the morning there's usually a lot of activity, mostly the village ladies coming to pray and make offerings.
Cheap NIKE NFL Jerseys and Wholesale nfl Jerseys or Wholesale NFL jerseys
wholesale Jerseys China Cheap NFL jerseys
The principal sight in Muang Sing is its large morning market, situ ated opposite the bus station in the northwest of town. Clustered around the gates you'll often find women selling mounds of bright green watermelons, beyond which is the covered food market, a good spot to pick up snacks, such as melt-in-the-mouth fried bananas. A few tribal ladies sell textiles at the far end of the food market, though expect some hard selling, even if you're just looking. If you want to take a photo of a vendor, it's only polite to buy something first and ask permission. The market kicks off very early, just after sunrise, and though goods are on sale throughout the day, it's best to get there before 10am in order to see the best of it. Many wandering street vendors in hill-tribe costume hang around the main street; they aren't rude but they are extremely persistent. Practise your Lao with them until they get bored and go away.
One of the nicest things in town is the herbal sauna attached to the Puoiu 2 Guesthouse; massages are also available here.
You can explore the surrounding countryside and traditional villages on foot or by motorbike or bicycle. However, to get the most out of the area, join a one- to three-day trek through the surrounding mountains to remote and unspoilt villages where life has barely changed in centuries. A number of tour operators now offer treks in Muang Sing.
Lying within the boundaries of the region known as the Golden Triangle, Muang Sing has a long connection with opium. During the late French colonial era, Muang Sing became an important collection point and way-station for the French colonial government's opium monopoly. In the post-colonial period and before the communist takeover, quantities of local opium found their way to RLA-controlled refineries near Houayxai. There was a brief tourist rush to Muang Sing during the 1990s, which saw opium dens reappear for a brief period, but the town now, though increasingly well set up for tourists, is a quieter choice than Luang Namtha, and has retained a definite local feel.